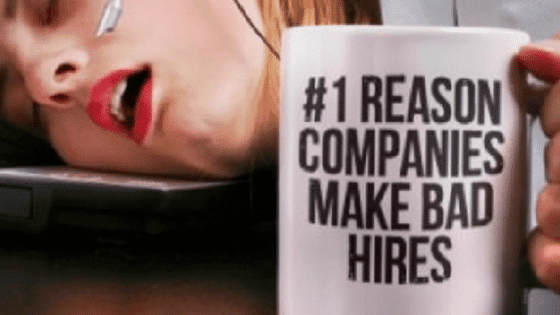 Business Development Manager Lessons and Challenges: Bad Hires Impact Good Teams
What does a market and business development manager face with the current challenges in pricing teams? Making bad hiring choices negatively impact teamwork, culture, and profitability. Bad hires prevent healthy teamwork and create headaches for team members and business development manager alike. They add additional stress for everyone in the business and lead to dysfunctional team behaviour further down the line.
---
>Download Now: Free PDF Pricing Recruitment
---
Disengagement and unhappiness is infectious and spreads through all teams, even those that are high-performing. Apart from that, doing your best to protect your team from politics and blame can often accompany a wider business transformation process.
What is the financial impact of bad hires? A Market and Business Development Manager's Lessons and Challenges
Underperformance and new hire turnover have significant financial impact on your business. The monetary cost of a bad hire has been shown to exceed 30% of the person's annual salary, according to the U.S. Department of Labor. The total cost of lost productivity and recruiting to fill other positions also doubles every time a bad hire leaves the business.
CareerBuilder survey estimates that a single bad hire can cost up to $50,000, depending on salary and level of experience (with more senior or specialist hires such as a pricing manager costs significantly more). CEB research shows the average cost per hire to be more than $7,000 across all levels. In fact, in high-profile pricing and commercial management roles, the cost of a bad hire has been estimated to reach more 2.5 times the role's annual salary.
TalentVine Australia notes that:
27% of companies were in a rush to fill an open position.
36% of companies did not assess candidates thoroughly.
31% of candidates or bad hires misrepresented themselves as fit for the job.
10% of companies failed to do thorough reference checks.
I. Who is most likely to leave the business first? 
The attrition rate for new hires is much higher than that of all employees combined. Current research shows that average new hire turnover is now up to 23% compared with 16% for all employees. Roughly 20% of all new hires are often bad hires.
New hires are high risk regardless of how they have been selected.  Rigorous selection, evaluation, and informal and regular feedback sessions with a new hire should be a non-negotiable part of the recruitment process for all hiring managers that are setting up a new pricing and commercial team.
II. People leave businesses that don't care
A 'bums on seats' approach (as I've heard a number of HR professionals pejoratively refer to their own recruitment and hiring processes), does neither identify amazing applicants nor weed out unsuitable candidates.
As crude as it sounds, it is not candidate-focused nor is it concerned about finding the right fit really. It pays lip service to the notion of fit but really is transactional, treating people as a tradeable commodity. As a result, it damages corporate brands and reputations.
This approach does not attract great candidates. In the rare case that it does, new hires quickly realise that their position and value are neither understood nor valued. Almost certainly, they end up leaving the business.
When high-performing employees leave businesses abruptly, HR professionals and hiring managers are left in a difficult, fire-fighting position to fill the vacancy quickly. So, reworking through a poor recruitment process is fraught with risk as costs start to add up.
III. What are rework costs?
Rework costs are commonly associated with re-hiring or replacement.  The cost of making a bad hiring decision includes significant rework costs as it takes time and effort to find the right person. If you were using an outside agency in your search, then it's going to cost money to re-advertise the position. Rework costs also include the cost of paying more money on additional training, introductions, and policy and procedures.
About 33% of productivity time is lost from bad hires with a 27% decrease in team morale. Then, there's 20% more stress for a market and business development manager as they face other challenges. That's based on a study done by HCA Mag.
Direct expenses associated with reworking poor hiring choices (i.e., recruiting, on-boarding, training processes + potential increases in compensation packages and severance pay) reduces business profitability. This also affects trust in the recruitment process among your hiring and line leaders.
IV. Hidden costs of bad hires
The cost of bad hires goes beyond financial and monetary losses impacting morale, teamwork, and productivity. Bad hires affect how well your team work together, bond and achieve collective goals. That includes low morale, workflow interruptions, function, and negative perceptions about capability and credibility.
Your teams will experience a "transition period" while you seek to replace a bad hire. In this transition period, your employees may be struggling to find normalcy in their day. They'll find it difficult to keep up with the additional tasks they've been given. So it becomes common to find teams attempting to overcome the impact of a bad hire by trying to plug the dam rather than moving forward. This almost never works.

Market and business development manager challenges
Priorities in a Digitalised era
A business development manager will often face challenges regarding prioritisation when there is information overload nowadays. With the advent of technology and every piece of information at the tip of our hands, it's easy to lose track of what truly should matter.
Time management for emails, messages, meetings, proposals, presentations, and monthly reports can be a challenge. In a fast-paced world, face-to-face meetings accomplish more things quickly than on an email or call.
In a pandemic situation like ours, you must find the best ways to navigate through a socially and virtually connected platform that do favours for sales performance. Every now and then, you'll need a New Sales Strategy and find Ways to Create Value from Digital Marketing.
Consistent Branding
As a brand, you have to make sure that your branding and message are worth listening to. This is applicable to both employees and customers. There must be cohesive planning, timing. anticipating, and reacting to client responses favourably during pricing decisions or model experiments. Apart from that, personalisation or automation is about finding the balance in building a relationship and emotional selling with customers.
Keeping yourself abreast of customer needs must reflect how they feel at a certain time. What issues and concerns are important to them? Then, carefully tailor this with your products or services to heighten personalised buyer experiences. How do you want shoppers to feel when they use your products? How do you help indecisive shoppers? So, it's not simply a cheap gimmick but an opportunity to build connections and maintain relationships. It's supposed to make clients feel good about buying from you.
When is it best to use technology such as Price Optimisation Techniques: AI The Best Technique for Businesses? Of course, digitalisation is crucial in staying relevant in the industry. So, stay informed while keeping track of leads and adapting to constantly changing market and buyer behaviour trends that often take place in months.
Recruiting Talent
Personality assessments let you know more about the candidates who fit best. The standard hiring process is flawed. So, mix it up with a Nonverbal Cognitive Test for Pricing and Sales Teams, aside from interviews and previous experiences. It's best to do this if you want to acquire and retain high-performing talent and get ahead of the most common market and business development manager challenges.
Sift through candidates who are looking for just another job who are likely to stay short-term. Find candidates who are out setting a career goal. Specifically, those who enjoy what they do, yet are eager to learn new skills, opportunities, and challenges. There may be intergenerational differences between Millennials and seniors, but dedicated employees want to be skilled in other areas too. So, when there's a promotion up for grabs, this can be sourced internally.
High-performing pricing teams invest in involving cross-functioning teams from sales and marketing. Similarly, client organisation creates a huge impact on culture operations especially in Sales Culture: Create a Strong Business Culture for Diversity.
---
〉〉〉 Get Your FREE Pricing Audit  〉〉〉
---
Conclusion
Bad hires put a lot of stress and pressure on the team.  People are working much harder than ever to protect hard earned margins. When there is a gap in the team, workload can become unmanageable.
Overworked and stressed-out employees can easily lose focus on what really matters. Their individual and collective goals become drowned out by the noise. Then, a lack of drive and focus brings teams to a standstill and this is where underperformance creeps in.
Workload pressure can also create more burden and costs for the business and its customers. A loss of opportunities for new business, providing lower levels of customer service, and overextending current employees are a few.
Also, any projects that former employees were working on are put on the back burner. A team will often struggle to renew the trust that has been earned with clients as they scramble to ensure projects are completed. When this happens, leaders and teams feel overworked, isolated, and underappreciated.
The financial costs of bad hires on your business is in its millions of dollars
Bad hires create hidden costs like an unhealthy rivalry between teammates and a toxic culture
Some team members will feel resentment towards the person who is leaving — or towards the managers who brought that person on in the first place.
Bad hires negatively impact productivity and service quality.
When productivity decreases, deadlines are often missed and salary or bonuses are affected.
---
For a comprehensive view on maximizing growth in your company,
Download a complimentary whitepaper on How to Build a Capability Framework For Pricing Teams.
Are you a business in need of help to align your pricing strategy, people and operations to deliver an immediate impact on profit?
If so, please call (+61) 2 9000 1115.
You can also email us at team@taylorwells.com.au if you have any further questions.
Make your pricing world class!