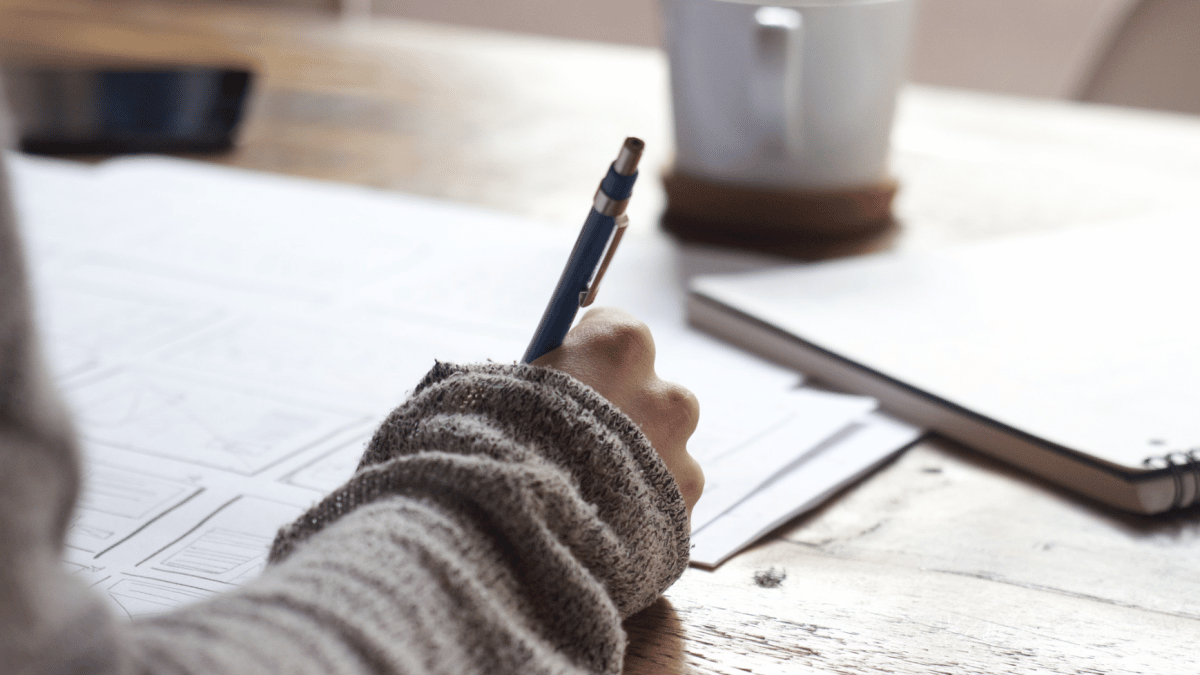 Pricing Strategy Training Courses: The Best Training For Pricing Teams To Learn The Latest Pricing Skills 🗄️
More and more Australian businesses are setting up new pricing teams in a bid to protect margins and drive profitability under tough market and economic conditions. As a result, a lot more executives are asking us about pricing strategy training courses and pricing analyst courses.
---
>Download Now: Free PDF How to Improve Your Pricing Team Performance
---
Executives and pricing teams want to know:
Are there any pricing strategy training courses and providers that can help us improve our pricing capability?
Are there any good foundational level pricing analyst courses to onboard new staff?
What providers and pricing analyst courses are suitable for B2B versus B2C?
What are the major pricing skills and capabilities other businesses are looking to develop in their teams over the next year?
So, today, we thought we'd dedicate this article to helping you get the most value from any pricing strategy training and pricing analyst courses you eventually choose for your pricing team.
We discuss different pricing analyst courses and providers in this space. We argue that the best pricing strategy training courses for both pricing analysts and pricing managers tend to be ones that are very focused on the needs of the learner, striking a good balance between academic theory, real-world pricing practice and the pricing problems of the learner and their organisation.
---
Table of Contents:
I. The Best Training For Pricing Teams To Learn The Latest Pricing Skills
II. The Problem With Pricing Strategy Training Courses & Workshops & How To Fix It
---
---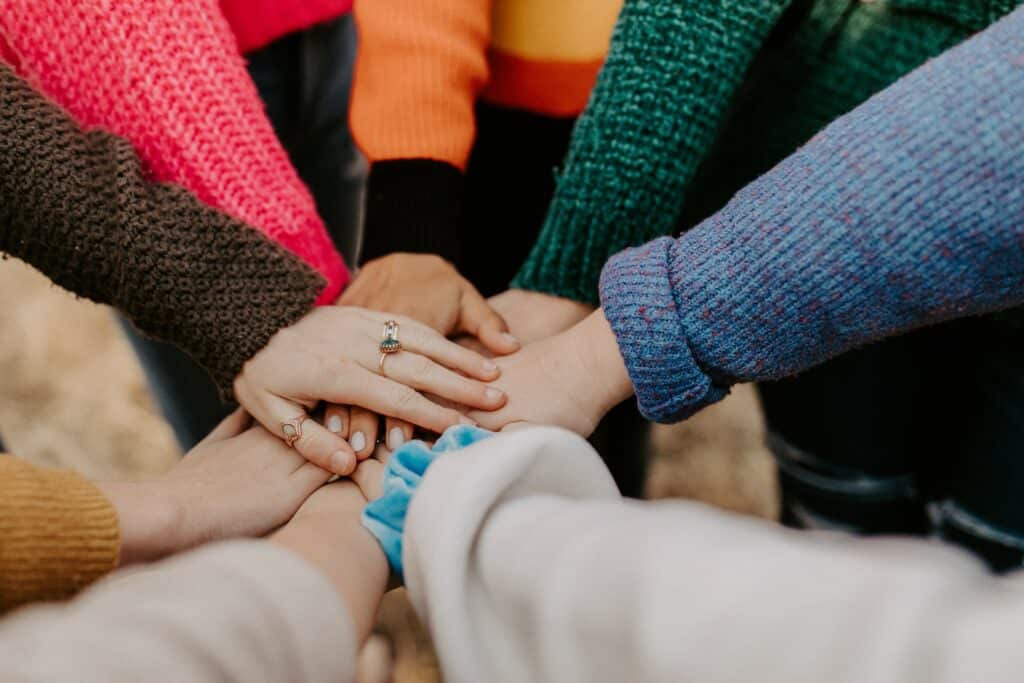 ---
The Best Training For Pricing Teams To Learn The Latest Pricing Skills 🗄️
---
What are the best pricing strategy training courses for pricing teams?
Starting with online course providers of pricing analyst courses: Listed below are some online providers of pricing strategy training courses – offering low-cost pricing analyst courses and revenue management training options:
A lot of the online providers are new entrants in the market, testing demand for pricing training before they fully invest in their suite of pricing training products. We say this because the pricing analyst courses still feel a bit piecemeal and disjointed. They also tend to offer the same type of course topics and agendas. They also offer a fairly limited range of elements to study. Not a lot of time and money has gone into producing these training courses. It feels almost as if they are gauging consumer interest before they fully invest in their pricing training products (like a minimum viable product).
The trend for pricing strategy training courses now seems to be to either:
1) focus course material on basic price analytics or
2) offer a sweeping generic overview of pricing and revenue management with a few discussion points on associated disciplines.


A lot of these new online pricing training providers tend to take a myopic, textbook approach to pricing and revenue management training – like they have pulled pages from textbooks quickly. Many of the courses on offer lack depth, and breadth. You don't feel that you could problem solve any better after completing them.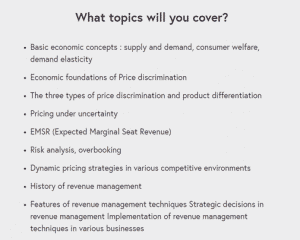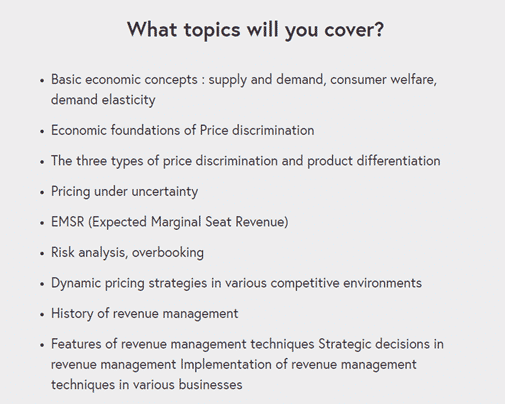 In many respects, they are very reminiscent of a standard university lecture on pricing. The major focus is on tactics and techniques – missing important commercial aspects and insights into business strategy, the market, and the impact of pricing on the P&L, competitive environment, and customers.
Many of these online pricing analyst courses start and end with rules, formulas, and operations. They rarely apply these concepts to a real problem or business setting. What's more,the formulas are fairly basic financial formula. As a result, the material covered is easy to forget. It wouldn't be a surprise to find that you're left with the same skills and knowledge gaps after completing them as when you started.
It would be much better if they'd also cover real-world pricing topics like these:
How to set prices based on value rather than just cost-plus calculations and markup
The best way to optimise the marketing mix to generate the highest profit without losing money;
How to determine what customers want and are willing to pay for;
How to quantify customer value to set and adjust prices, etc.
But unfortunately, they don't. So overall, we'd say that it's great there's a bit more choice in the market for online pricing analyst courses, but I wouldn't recommend them to executives looking for pricing strategy training courses for their team.
Established pricing strategy training courses
Then there are more established pricing strategy training courses and providers: Overall, we find the better training providers and institutions also tend to be the ones that think carefully about how the learner experiences and engages with the quality of the training content itself.
For example, most of these established pricing strategy training courses and providers do cover relevant topics such as:
Different types of pricing strategy – albeit high level.
Price methods  – albeit simple and high level.
Pricing systems and tools – albeit largely Big named Pricing Systems & Brands.
We believe these topics are good starter topics for any manager interested to learn more about pricing. However, we know that there's also so much more to strategic pricing than this and so much better content to learn. What's more, it would be great if strategic pricing training had more strategic content in them and more content that is applicable to a sales or pricing manager's actual job.
For example, you'd still be hard pressed to find pricing training from consultants willing to give managers what they really want know and learn – i.e., price structure templates, proven pricing frameworks on price positioning, cheat sheets on how to set prices for new products, and commercial insights that address pressing pricing operations issues faced during a systems integration, price launch, major pricing data upload process or IT price structure change, for example.
Most strategic pricing training from associations is very narrow too. Largely based on learning how to use a top end pricing system like PROS or Zilliant, for example.
Consequently,  many of the case studies, pricing principles, handbooks, checklists, callouts and tips that are provided are interesting but not necessarily relevant to most sales and pricing manager's job.
We also find that a lot of providers and firms still shy away from price structure development. Admittedly, price architecture development is a very technical and specialist area – very few people in the world can do this well. What's more, it is understandable that most pricing consultants offering training do not want to give away their trade secrets and thus only give a partial view of this topic during their pricing strategy training.
However, partial training is not effective training because it's by nature high level and/or a partial view. It is also very frustrating for managers to attend such workshops only to find that they are still unable to implement what they have learned. Especially frustrating if you are trying to find pricing strategy training courses and programmes that bolster internal pricing capability or drive pricing transformations.
Conclusion
In conclusion, after reviewing what's on offer to executives and pricing teams keen to build their capability in this area.  There is a clear and large gap in strategic pricing training across the board. Online providers of pricing strategy training courses are 'taster' courses. They are cheap and cheerful pricing analyst courses. They don't exceed your expectations and are quite formulaic and predictable. But, the biggest issue with pricing analyst courses – online, workshop, established and new – is that they are all largely irrelevant to the learner. They neither help the learner fix real pricing problems nor help them resolve pressing issues.
Strategic pricing training and executive education, nonetheless, could still be a powerful medium if it was implemented properly – i.e., when there is proof that the root cause of the learning required is to address a real commercial problem. The situation may be: a problematic customer tender; an undeveloped pricing skill in the area of price list development; or a knowledge deficit in product price setting. What's more, for those situations, a well-designed pricing analyst course or pricing strategy training program with customised content, relevant case material, skill-building practice, and a final measurement of skill acquisition would work wonders.
However, if a lack of skills or knowledge is not the core problem you are addressing, and you are hoping training will solve deeper underlying issues such as:
Narrowly distributed authority – silos

Poor or no communication between teams

Bad hires and team morale issues

Unclear roles, responsibilities, and expectations
---
〉〉〉 Get Your FREE Pricing Audit  〉〉〉
---
Pricing training (no matter how good it is) will not solve these problems. Worse, it can backfire, making management look out of touch.
Our advice with pricing strategy training courses and pricing analyst courses then is simple. Make sure the provider and the pricing strategy training course you choose align well with your commercial requirements. Both in terms of your strategic learning objectives and your business culture.
You want to be sure your business can embed new pricing skills and knowledge. And to do this, you need to do three things:
Address the broader factors that may threaten success,
Understand what everyone's individual learning needs are on the team,
Ensure your training provider is actually going to teach your team relevant skills before spending the money.
Click here to access a free pdf guide to building a winning pricing culture for your business.
Read the article below for an alternative option to traditional pricing strategy training courses and programmes.
---
---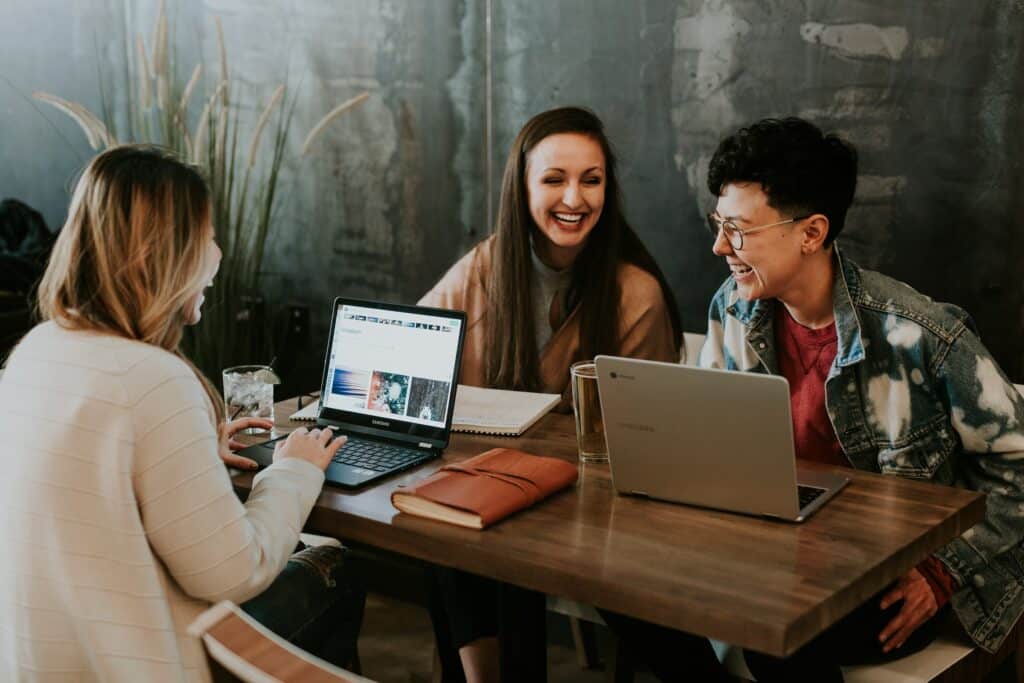 ---
The Problem With Pricing Strategy Training Courses & Workshops 🎛
---
Most businesses face an urgent need for pricing and commercial skills to protect and drive profitability in the face of rising inflation, shifting supply and demand, and evolving customer needs. As part of a larger business transformation, an increasing number of companies are also striving to upskill their teams using pricing strategy training courses as they transition from cost-based pricing to strategic, market-based, and value-driven pricing.
The problem is though when it comes to teaching teams strategic pricing, most training courses and workshops simply cannot keep up with the demands of pricing transformations. Worse, they are completely inadequate to support teams as they learn.
In fact, our research on more than 23 pricing transformations reveals that teams are simply not learning what they need to know to achieve their goals.
This means, then, that not only is there a fundamental problem with pricing training courses and workshops; the commercial capability gap that pricing training has created is in turn a major driver for many failed pricing transformations.  
In this article, we will continue to discuss the topic of commercial capability building in the area of strategic pricing training courses and skills development. Answering the question we often get asked at Taylor Wells: 'If pricing strategy training courses doesn't help us achieve what we want, how do we ensure our teams have the requisite strategic pricing skills to drive and capture commercial strategy?' 
We argue that the recipe for successful commercial capability building consists of iterative learning systems that are aligned with business priorities and the transformation of pricing work. 
At Taylor Wells, we have strong evidence to show that when pricing skills are learned, applied and embedded within the business as part of the transformational journey, teams can capture $ value three times faster than organic change and retain the majority of what they have learned for implementation and post-implementation phases of a price transformation. We believe the large majority of pricing training and strategic pricing workshops run by consultants are a costly waste of time and money. 
The Biggest Mistakes CEOs Can Make About Pricing Strategy Training Courses
The worst mistake CEOs make is relying on pricing strategy training courses and workshops to build pricing and commercial capability.
For instance, we recently worked with a sales manager from a Melbourne-based plastics manufacturing company. He was telling us about his three days of training experience with a 'multinational sales training company'. He called the three six-hour sessions a waste of time because the material covered had little to do with the issues he was dealing with at work.
This manager is not a lone voice in this regard either: Several studies show that training can be more problematic than productive. A recent report found just 25% of respondents felt that training programmes had a measurable performance improvement.
A 2015 study from an online training company found that only 12% of employees apply new skills learned in training to their jobs. The latest scientific research finds that within only 6 days, people forget what they have learned from training courses because much of the workshop content, timing and sequence of training is flawed.   
Our research shows most strategic pricing training programmes and workshops – despite the name – do not teach teams the pricing skills necessary to set and manage prices properly or embed price rise strategy or process that guarantees $ value capture, for example. 
In many instances, management training courses and workshops are too 'light on' to provide teams the skills they need when they need them. After working through 23 pricing transformations, we have found that in order to be able to transfer and apply their new pricing knowledge and skills more efficiently, teams have to use and reuse a different set of pricing skills in their everyday work. This includes acting differently, thinking differently and speaking differently. 
Training for the sake of training, in other words is a waste of time and money. It's also really frustrating for teams seeking a genuine solution to pressing pricing issues.
Immediate Risks To Profit Of Flawed Pricing Strategy Training Courses
With about $340B spent on training globally last year – up about 22% over the past five years – businesses are investing more and more into bolstering their staff's commercial skills. But groans that LinkedIn pricing training is too basic or too boring continue to fill office hallways every time someone gets called into a session.
Many training programmes don't actually improve commercial capability because most management training -including pricing training and strategic pricing workshops – is too generic, too basic and too boring. 
The misguided one-size-fits-all approach to pricing comes from companies training everyone, in every department, in the hope they will feel equipped to try new things. There's not enough attention given to what objectives the company wants to accomplish and the current level of knowledge and skill of those who are going to be trained.
Other Risks
Another problem with pricing training is that managers post training don't always follow up after training, or even know what their staff are learning in a training session. In many cases, HR tells managers to identify people for training but doesn't tell managers exactly what their staff are getting trained on or how that connects with pricing strategy or a new pricing project. 
Then, when the employees return to their desks they think, "If we can get the work done that the manager wants, and if the manager's not reinforcing the use of new pricing skills, then why to change how we set and manage prices?"
Costly Road To Recovery: Ineffective Pricing Strategy Training Courses
As much as managers and their teams may cringe at the thought of training, learning new pricing skills can have value if done correctly. 
Sales teams can quote profitable prices and hold onto procurement savings

Pricing teams can issue price rise notifications to customers with confidence

Managers can rest assured knowing their price operations team has updated price rises and changes in the system properly, 

Analysts will be able to optimise price based on value to maximise margins at an SKU level

Teams will automatically seek authorisation and guidance from the pricing team before overriding prices using a tested, streamlined but efficient approvals process. 

Managers will understand how to develop strategic rebates that drive customer loyalty and maximise margins

Prices will be automatically linked to customer pricing and contracts

Analysts will know what metrics to track during a transformation and report back essential information or red flags

Managers will know how to build dashboards to monitor and optimise quote-to-book ratios and pass-through rates for increased profitability
Regrettably, most pricing training is neither interesting nor relevant to most strategic pricing work that occurs during pricing transformation projects.
Many training programmes, for example, are incapable of improving pricing and/or failing to identify red flags in the approvals and authorisation process, which frequently result in excessive discounts and an increase in price override requests.
Our research shows that the potential for $ value loss begins on day one (e.g., when teams are selected for pricing projects as part of the workforce planning stage), with teams attempting to build new tools and price structures losing the most $ value (implementation).
A Solution To Broken Training: Pricing Strategy Training Courses To Capture Commercial Capability And Increase Sales Revenue
Our consulting experience and research based on over 4,000 pricing skills tests of pricing, sales and commercial managers tell us 4 iterative phases accelerate pricing skills development required for successful pricing transformations: Diagnostics, Learning & Development Roadmap, Coach & Track.
Here's what those things mean. 
PHASE #1: Using Detailed Diagnostics To Develop Pricing Strategy Training Courses And Programs That Solve Real Problems 
This phase consists of workforce planning to identify commercial skills gaps. 
This phase includes the following:
Assessing demand and/or need for specific pricing and commercial skills for a forthcoming business or pricing transformation.

Determining the current supply of specific commercial skills. Including, but not limited to, strategic pricing skills, core sales skills, category management skills, systems and data skills, and website marketing skills. 

Analysing pricing skills gaps across teams – pricing, sales, marketing – including the development of the business case to close them.
PHASE #2: Developing Blended Pricing Strategy Training Courses And Programs Within A Pricing Execution Roadmap
The second phase is about developing a pricing and commercial skills strategy roadmap to fill anticipated gaps.
This phase includes the following:
Designing a portfolio of initiatives to close skills gaps.

Designing tailored learning journeys and delivery plans for specific roles or groups of employees.

Building a learning infrastructure – i.e., the scaffolding and content that will provide support for your teams as they work through the roadmap and learn new skills. 

Selecting the right people in the business to drive learning across the business. 
PHASE #3: Replacing Generalist Pricing Strategy Training Courses And Programs With Targeted Coaching
This phase involves the execution and delivery of a pricing transformation project at scale.
Typically,  a coach (either internal or external) facilitates the skills programme to ensure teams build the pricing architecture required to protect and expand margin.
All new pricing skills are carefully selected to guarantee key outcomes.
The basic lessons may include, depending on the needs of the business, how to accept a price increase and how to write the most effective price increase communications to customers and employees.
Or more sophisticated. For example, how a pricing manager can prioritise their existing and new responsibilities to integrate anticipated project, systems, data and price setting tasks into BAU and within newly optimised multiple team workflows. 
They can also be technical or functional to get key work streams and tasks completed on time and generate $ value improvement within 3 to 6 months. For example, how to create a strategic price structure with optimal price levels to generate an additional 6 per cent margin within 3 to 6 months.
The key point to bring out here is that this is not just training for training sake. This is targeted learning. And,

all departments are part of the programme.
PHASE #4: Integrating Tracking To Monitor The Impact of Pricing Strategy Training Courses 
The final phase entails tracking skill-building initiatives across the organisation against key pricing and performance metrics.
This phases includes the following:
Launching a "skills tracking dashboard" dedicated to building commercial capability across all teams.

Delivering pricing transformation outcomes via various commercial capability programmes occurring across the business that also address the most critical pricing skills needs.

Implementing a dynamic tracking system of team capability, workforce requirements and pricing transformation impact. 
Economic Benefits Of Training In Business: ROI From This Commercial Capability Building
The effort necessary to finish all of this is also well worth it. When teams receive more prescriptive apprenticeship-style pricing coaching that aligns with their workflow (old and new); and in accordance with broader business goals, team performance rapidly accelerates. Companies are capturing between 7% and 10% more margin in the first 3 to 6 months.
This additional $ value and time generated from commercial capability programmes and optimised commercial systems together also gives businesses the additional opportunity to reinvest the money they made from pricing into broader business transfor­mation initiatives. Creating, in turn, a virtuous cycle of improvement that's much easier to realise within a faster timeline.
Implications Of Efficient Pricing Strategy Training Courses And Programs
The development of pricing skills across your teams is a critical component of a successful pricing transformation. However, for learning to stick and produce results, the form, content, and timing must all be aligned with pricing transformation roadmap.
Learning pricing skills and then applying them without clear objective and post training tracking has no effect on team performance or results. Even the best pricing skills are forgotten without repeated use, application, and formal guidelines.
---
〉〉〉 Get Your FREE Pricing Audit  〉〉〉
---
Bottomline
Skills development in pricing often falls flat for 3 main reasons: 
Absence of comprehensive assessments of potential skills gaps across teams 

Teams do not have a clear pricing skills strategy or capability framework to follow or refer to

The supporting infrastructure for skilling is either flawed or not scalable.
Skills development is no longer a luxury. If your teams can't set and manage prices properly, the business loses its hard-earned margin. This can lead to profit downgrade, and teams over time potentially lose their jobs.
It is only through iterative commercial systems, that teams learn, apply and embed new pricing skills and capabilities.
Applying the 4 step approach outlined in this article can get you to goals 3 times faster than regular pricing training and deliver between 2 to 10 per cent additional margin.
---
For a comprehensive view on building commercial capability in your business,
Download a complimentary whitepaper on Future Proof your Pricing Strategy
Are you a business in need of help to align your pricing strategy, people and operations to deliver an immediate impact on profit?
If so, please call (+61) 2 9000 1115.
You can also email us at team@taylorwells.com.au if you have any further questions.
Make your pricing world-class!