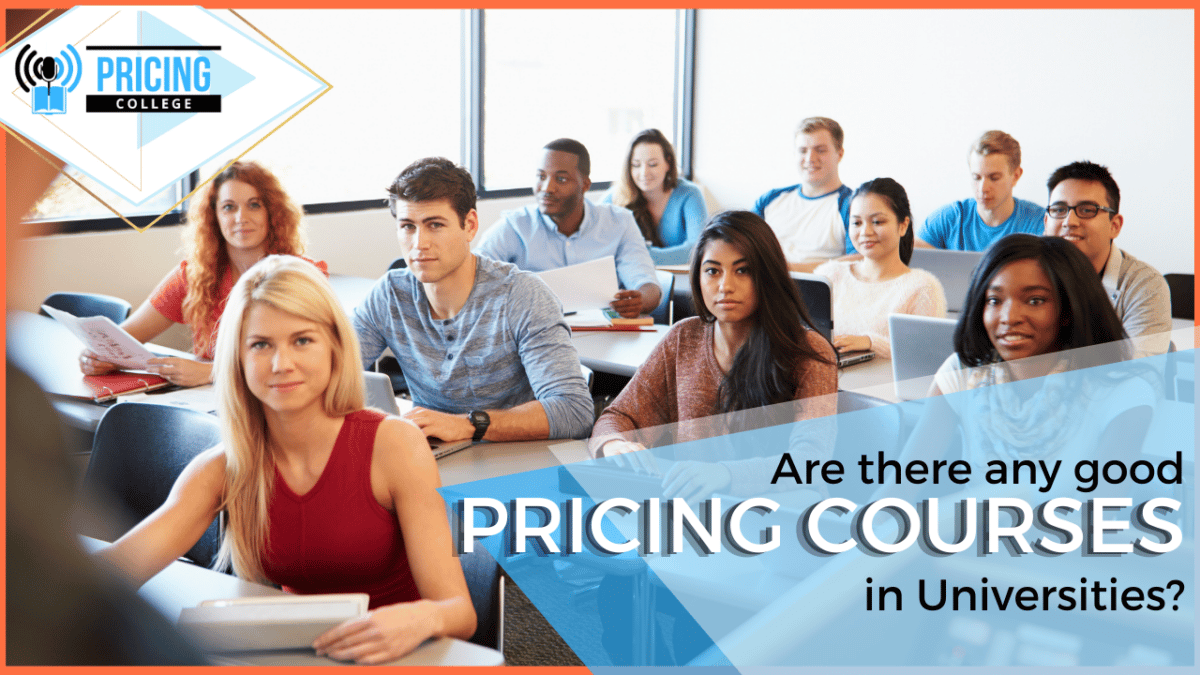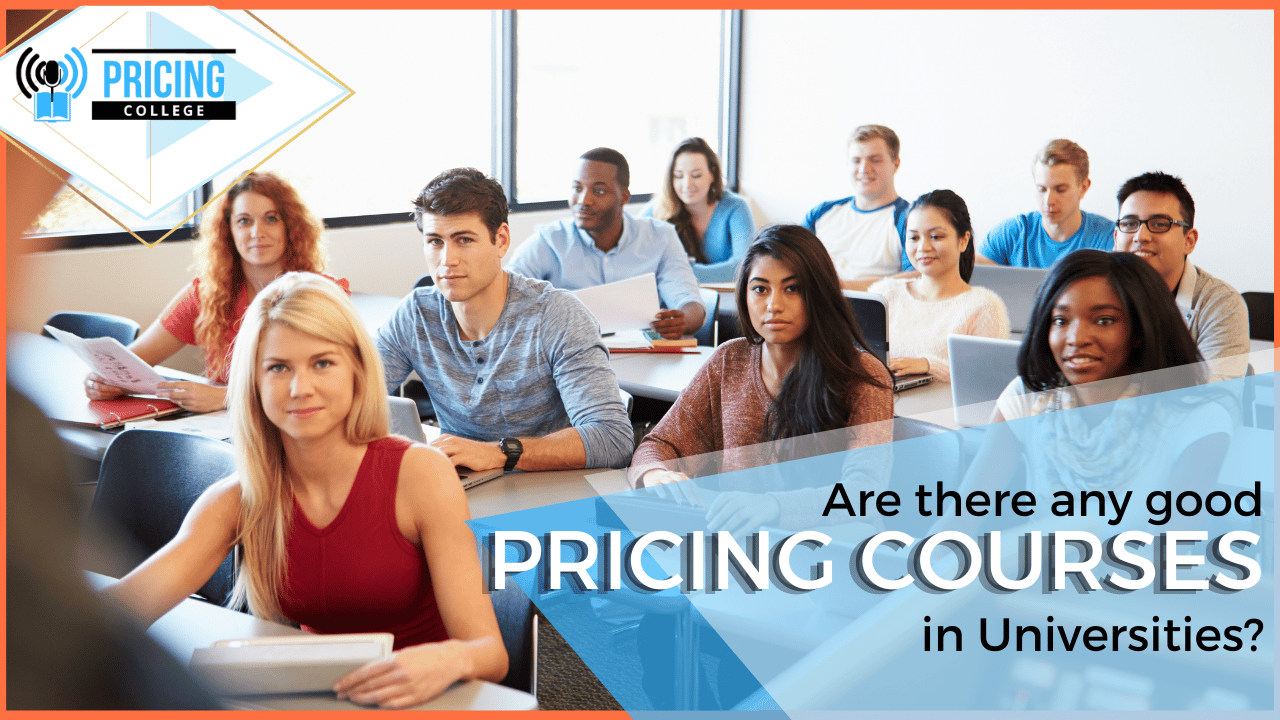 Are there any Good Pricing Courses in Universities? 👨‍🎓 Podcast Ep. 68
In this episode of Pricing College – we discuss whether there are any good courses at schools, colleges or universities that really cover pricing strategy in a useful way.
Many courses are as subsectors of marketing – but are there any courses we would recommend?
Listen on Apple Podcasts Listen on Spotify Listen on Google Podcasts Listen on Stitcher Listen on Amazon Music
TIME-STAMPED SHOW NOTES
[00:00] Intro
[00:33] Joanna explains that there are no specific pricing courses offered in the universities
[01:44] Experience is very important in a pricing career but, Are there great prices coming out at an early age? 
[03:25] Does the gaps for the talent market in pricing is because of lacking pricing courses in the universities?
[05:15] Pricing College and Taylor Wells working on masterminds and meetups and the benefits of doing it. 
[05:57] Due to the lack of structured pricing courses from universities, companies have had to resort to pricing consultants to help them.
In today's episode, we want to discuss…
Is there are pricing courses at a university that we would recommend?
Okay, I suppose to make it simple I would say no not really. They are lacking when it comes to strategic pricing and revenue management in so many ways.
Generally are taught in a very sort of generalist broadway under marketing, pricing as well as the four Ps etc.
No detail is given to how to integrate a pricing strategy into a particular industry.

Very limited case studies. Limited understanding of price setting, strategic price-setting.

And even how to build an algorithm? how do algorithms work with different systems?

The benefits of different IT systems. How to even build a business intelligence system.
I'd say just generally everything that you kind of wants to know. All the questions that somebody is keen on making pricing their career. Or keen on driving a particular pricing project in the business.
He just won't get those answers from a generic pricing university course. 
I think the vast majority of them are as one of the four P's of marketing as a sub-sector.
Yes, taught by a marketer or taught by a general academics or someone like that. So you'd have to question the validity of what you've been taught.
I would say, obviously, we haven't checked the entire market. I'm sure there are some out there. If there is, reach out to us shoot us across. We'll certainly look at them and mentioned them on blogs etc if they're out there.
I think what I'd say is, it's not surprising. It is not surprising that there aren't that many good courses would recommend.
Pricing is like marketing in many ways where experience is very important.
Experience and learning on the job. So in that context, you have to know what you're doing. You have to mature learn different facets of the business.
Understand customers.

Understand how Corporation works.

And, understand how you work with different departments Marketing.
So you have to know a little bit about everything. You have to know how to fit it all together.
Are there great prices coming out 21, 22 years old?
I'm sure there are. But there are a lot of skills that take time to learn. You have to learn, what can be done? what can't be done? Certain things have to be done first, many steps etc. And that takes learning time effort and it is like marketing.
One thing I'll say about marketing, I listen to the Neil Patel show and they often say, would they employ a marketer straight off a college course? And they say well, not.
They probably just asked someone for practical results. Practical evidence of what they have done is not textbook learning but actual reality.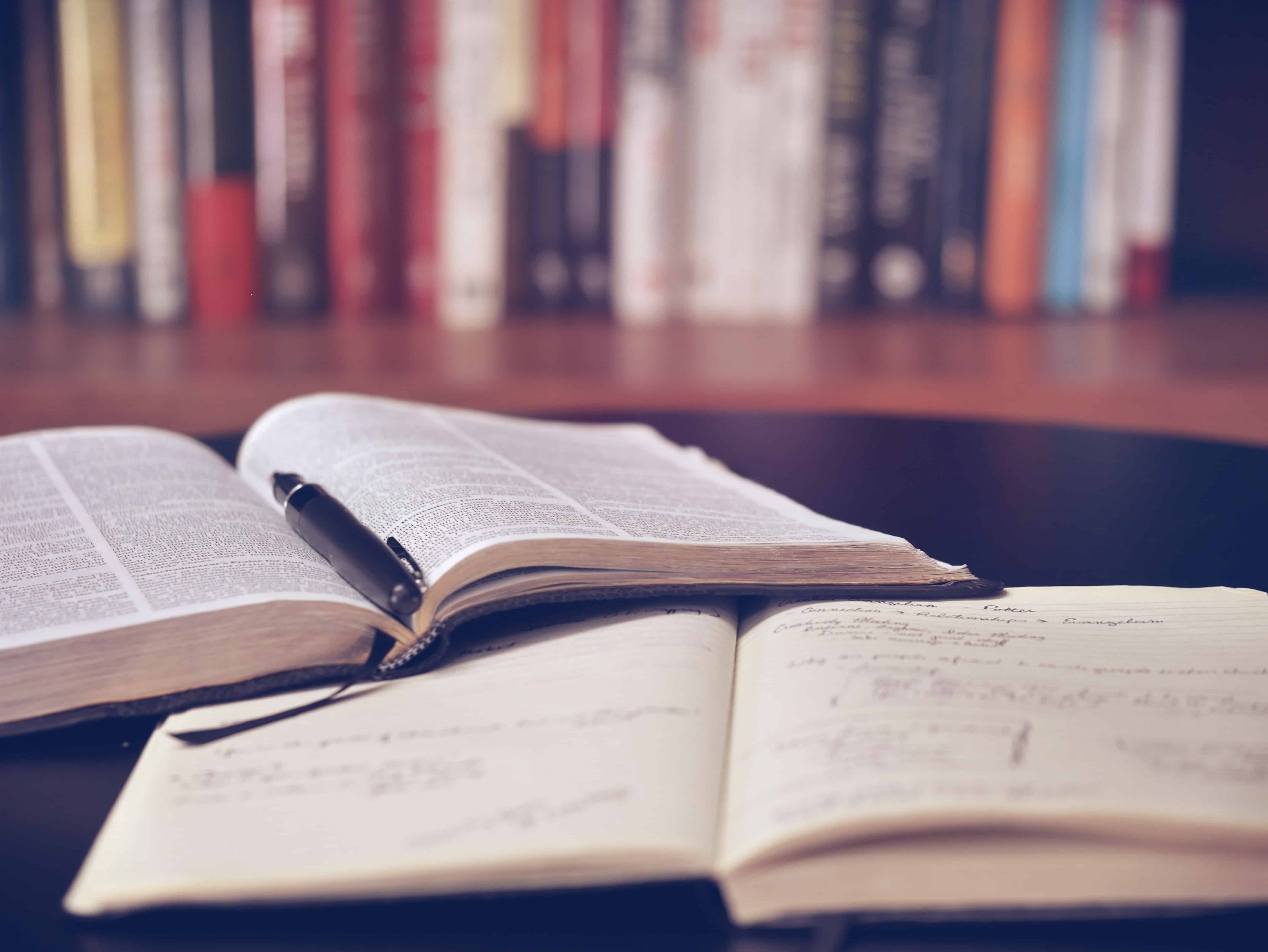 Do the gaps for the talent market in pricing is because of lacking pricing courses in the universities?
I suppose when we look at how forming teams for different businesses in different industries. We spend a lot of time on that evaluation side of things. Like individual evaluation. Assessing individual capability with what the organisation needs.
And we find these huge gaps in the talent market for pricing even people with pricing experience. If dedicated pricing experience was even 20 years there are gaps there.
And look, do we say…
Is that because of the university course?
Or is it because there's the individual has the gaps attitudinally?
They don't want to learn. Maybe their ability levels just maybe possibly want to learn but can't.
So we spend a lot of time looking through to sort of shrink those gaps in the talent market and also in the business world. To find the right team who can really drive strategy and almost we do a lot of work.
Because there just really isn't the courses out there. And even if they were, are the right people going on them? It's a difficult one to discuss.
But we are finding there definitely are gaps in both areas. And what we're finding ourselves doing now is sifting through both. And aligning, matching the right people to the right organisation to accelerate the IRI from the pricing.
Often as a result of gaps in the market lack of knowledge and expertise and skill both inside the business in the talent market for pricing.
I think in pricing there are good courses out there, there are courses in most countries that are beneficial.
Another thing I suppose at Pricing College and Taylor Wells we are working towards obviously it's been a bit interrupted by the COVID situation.
But masterminds and meetups and those sorts of things. Whereby pricing leaders people involved in the pricing community can meet with like-minded individuals. This sounds a bit strange but can meet with people and discuss that got discussed the topic of the day.
Discuss approaches, topics, new ways of doing things methodology. What works? What doesn't work? Change in the market. All those sorts of things where there's a limited form for that at the moment. So watch the space on in that regard.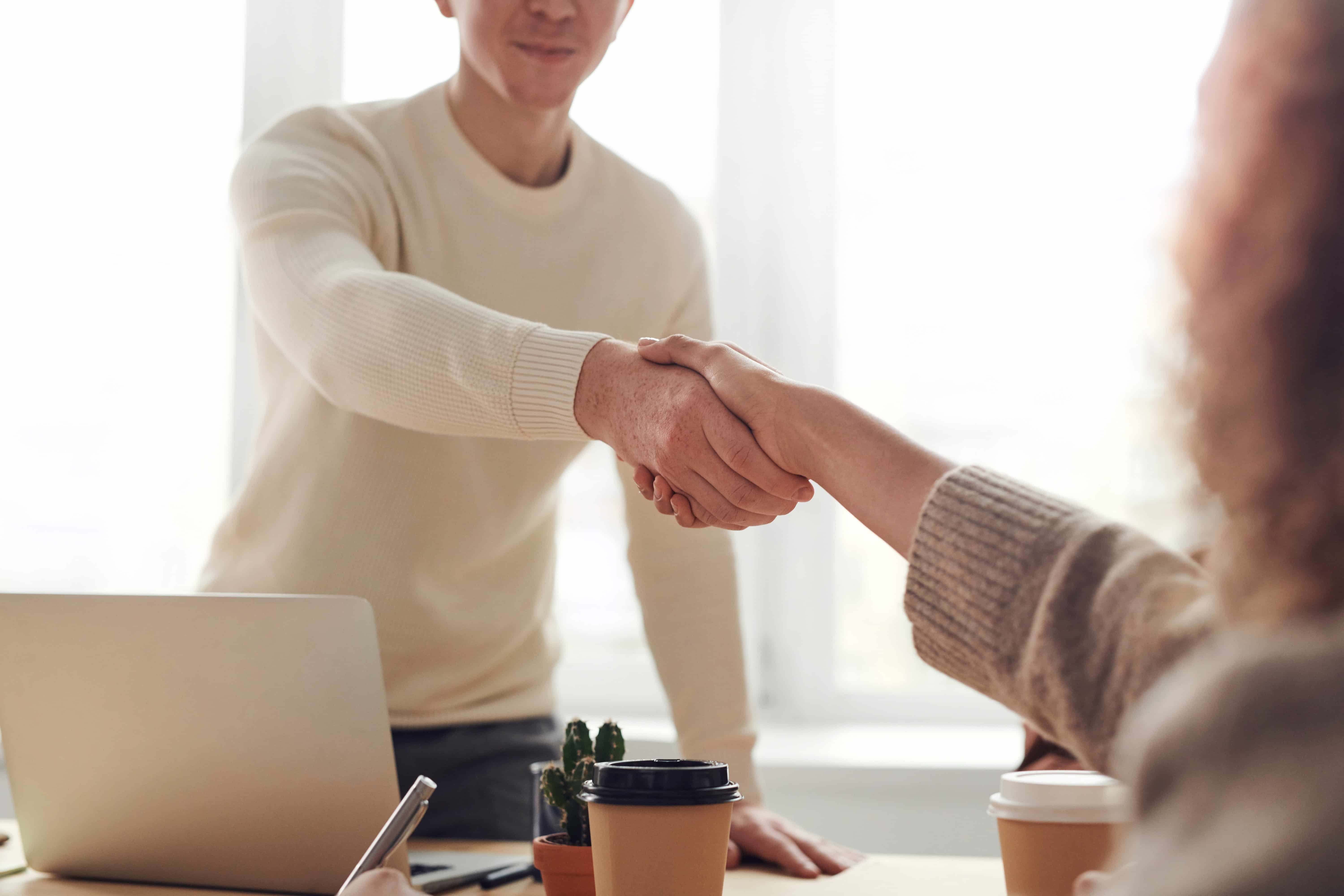 Bottomline: Due to the lack of structured pricing courses from universities, companies have had to resort to pricing consultants to help them
I mean it was hugely popular before. People have a thirst for knowledge when it comes to the latest pricing strategy based in the talent market as managers and analysts. Also for people, firms and businesses that have had their lightbulb moment on pricing. They really want to get their hands on the best people, the best teams best systems and strategies out there.
Often because of the lack of structured and good educational programs from universities. A lot of companies have had to resort to consulting based training.
To some degree, it's okay but it's very one-sided. It's all based on the consultants' view and what benefits them to get the next deal across the line.
So, what we find consultants give you so much. But they don't give you the full suite. If they were to give you the full suite it's going to cost you the millions.
We would say that's an inefficient way to get pricing knowledge across and to bridge those gaps that we discussed in the talent and business world. So for this very reason, we find ourselves becoming that connection point for businesses and pricing talent out there.
So we can really bridge those gaps and help both individuals and businesses have to drive their capability and get the results they need.
For a comprehensive view on building a great pricing team to prevent loss in revenue,
Download a complimentary whitepaper on How to Build Hiring Capability To Get The Best Pricing Team
---