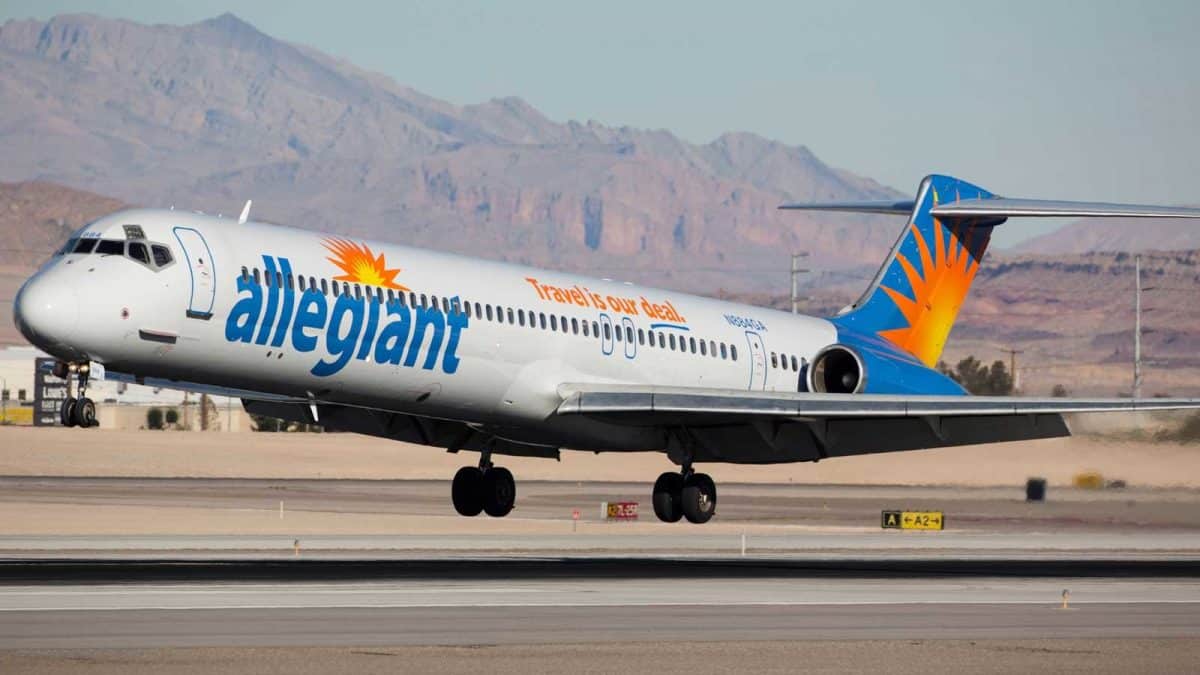 How Low-cost Allegiant Air Pricing Strategy Compete with Big Airlines ✈️
Do you want to find out how a relatively small airline gained market share and profit when all other leading carriers were struggling to make a profit on their flights? Do you want to know the Allegiant Air pricing strategy and what made them tick?
---
>Download Now: Free PDF How to Drive Pricing Strategy to Maximise EBIT Growth
---
As a CEO of any business, you'll want to learn more about Allegiant Air because of its pricing for profit, marketing, business model aligned to making money and other strategies that made them successful in the industry. Here's a case study for CEOs looking to learn for the best strategy to pricing for profit without losing customers. Yes, it's an airlines case study, but there's some pricing gold here that everyone can learn from. Read on…
Allegiant is not just an airline.
Allegiant Air is a highly-profitable airline that succeeds by offering low fares but charging passengers for every service the airline offers. Like for instance, you pay for seat selection, carry-on bag, checked bag, etc. However, Allegiant assures its passengers with affordable and convenient leisure travels.
But how did Allegiant become successful in the industry? Well, it uses many features of the business model such as direct distribution, hefty dependency on ancillary revenues, very fluid flight scheduling (by season and day of the week).
Last year, their profit margin increased. Factors included fleet transition (from MD80s to A319s and A320s), dependability, better economics and customer service. With better aircraft utilization, Allegiant has benefitted from it which drove a lot of capacity growth. It doesn't need many spare aircraft because of fewer cancellations. Hence, Allegiant's operating margin topped 20 per cent during the first half of 2019. Then in the third quarter of 2018, it has a significant increase from 7 per cent to 17 per cent.
Another thing, Allegiant's advertising is greatly focused on high-income "avid travellers".
Most of its passengers are corporate executives in places like Cincinnati with second homes in Florida, flying Delta for work but using Allegiant for vacation. Thus, its major focus is email marketing that's custom-tailored to individual needs and preferences.
Ancillaries continue to be critical to the airline business model. This involves charter or fixed-fee flying, expecting to generate $60 million this year. In the previous two years, they made about $50 million.
Allegiant is an advocate of data science. It is working on improving its pricing, marketing and maintenance. It seeks to get rid of 23,000 customer service calls by improving its mobile apps, adding functionality to address the issue.
Thus, people are correct to label Allegiant as not just an airline.
Fare pricing is considerably more complex than the relatively new fees Australian airlines have been assessing.
It's a question of the ability to charge the right price to the right customer at the right moment. It wasn't always been like this.
For the better part of aviation history, airlines operated in a tightly regulated, uncompetitive environment, where airfares usually cost a small fortune. Discounted tickets were always there but usually came with lots of strings attached, such as having to spend a certain number of nights at the destination.
International routes operate usually by the flag carriers of the countries involved, who would take a friendly approach to competition and fare-setting.
But with the US Deregulation Act of 1978 — a global liberalisation trend wiped off everything before it, from the industry structure to the way we think about air travel and airline fares.
Most people think fare classes are categorised into three such as economy, business and first-class. But really there are dozens of subdivisions.
The airline will adjust the number of seats allocated to each fare class. When one class has been sold, the sale price will leap to the next one. This is how most fares are currently set.
Dynamic Airfare Pricing
The dynamic airfare pricing takes in all the data and sets the price on a certain day and all this depends on an airline's ability to forecast well.
Allegiant Airline is one such airline. A highly profitable airline succeeds by offering cut-rate fares and filling planes close to capacity; mostly with leisure passengers hit with additional fees for just about every service the carrier offers. Allegiant airlines may be the cheapest fare there is, but it charges extra on each and every service like putting your bags on the bins or charging you for booking a flight on their website.
In this article, we'll be discussing the American airline which is Allegiant Airlines. How a small airline can set a profit when other airlines are struggling for the past decade from the ups and downs of the economy and the price of jet fuel. Australian airliners can learn from the Air Allegiant business model by tapping in a niche population that normally do not fly.
How Allegiant Airline pricing works
The airlines use dynamic pricing, or revenue management—as it helps the airline ensure that the optimum number of seats are sold at the best price and to ensure as much of the cabin is sold before departure, but not at prices that discourage buying, but also not at prices that they can't support. Place available airfare tickets into price point buckets each day. With only a few in the lowest price bucket, then a few more in a middle bucket, and the rest of available tickets into the highest priced bucket.
If the first two tickets are bought at $154, the next two tickets will have to be purchased at $199, and so on. Their strategy is all about supply and demand. Allegiant figures if they can sell two tickets at a low price, then they should be able to sell two more tickets for more money, and the next two for even more money. The assumption here is that eventually, customer demand will drop because the price point is too high. Then on the next day, they start all over again selling the first two tickets for $154.
What makes Allegiant Air different
The commissions that it earns is what makes Allegiant Air different from other airlines. They make profits from selling hotel rooms, rental cars, even Everglades boat tours and theme-park tickets. Not only that but they also get people to attend sales presentations for townhouses or condominiums. Thus, completing a ticket purchase online is a long process where a passenger has to click through page after page for these add-ons.
Once on the plane, Allegiant passengers are overwhelmed again with more advertising. On a recent flight from Cedar Rapids to Las Vegas, flight attendants announced on the PA system on side bargains and hawked show tickets and airport shuttles. 
Their in-flight magazines filled with ads for shows and attractions instead of stories. One ad offers $30 off a Las Vegas helicopter tour if purchased from flight attendants. They are paid extra for each item sold.
"Underserved Markets"
Allegiant Air pricing strategy concentrates on an area ignored by other airlines: It flies from small cities to sunlit vacation destinations.
For the past 15 years, Allegiant Air has a low-cost airline pricing strategy. It flies passengers from "underserved markets" like Appleton, Wisconsin; Bismarck, North Dakota; and Owensboro, Kentucky to popular vacation destinations like Orlando and Las Vegas. In exchange for the convenience of those nonstop flights and low fares, passengers have dealt with drawbacks.
While the business execs fly on bigger airlines for their business trips, they choose Allegiant Airlines for their personal trips because it's cheaper. Other airlines have the latest aircraft with Wi-Fi and TVs in every seat but Allegiant buys old planes to keep away from huge aircraft loans. And to get as many passengers as possible, seats don't recline. 
However, for people with limited flight options, these inconveniences are nothing compared to a few days of sunshine. Instead of competing for the big carriers for passengers on major city routes, it focuses on the people in small towns to fly away for a vacation. It brings people off the couch who normally have no reason to fly to holiday destinations.
In 2014, seven million passengers took a flight on Allegiant. That is just a sliver of the 642 million people who took a domestic flight in that year. But Allegiant earned a whopping $11.22 each way from those passengers.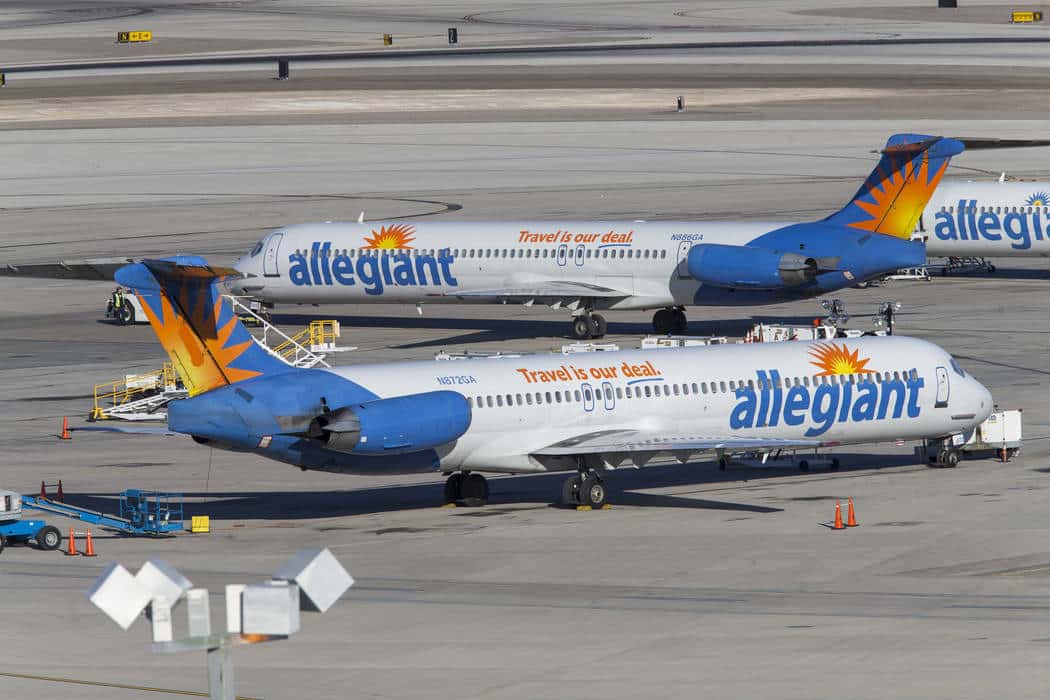 Cheap aeroplanes
Though it may be the cheapest airline there is, it is ruthless when it comes to cost-saving. Its employees are the lowest paid in the industry. In some cases, making $20 an hour less than colleagues at other airlines. It buys cheap aeroplanes nearly twice as old as everyone else'. It only sells directly to vacationers; not paying Expedia, Orbitz or other sites to list its flights as part of its low active price strategy.
Instead of buying the newest, most expensive planes, the airline buys used, inexpensive jets. Its planes are 23 years old, on average, compared with the industry average of 14 years.
The airlines bought used MD-80 which costs $3 million, compared to $40 million for a new Boeing 737 or Airbus A320 of similar size. Flying older planes has drawbacks, though. They burn more fuel and will only fly if the plane is full. This means passengers have to wait on the ground until there are enough passengers to squeeze in.
But with Allegiant, the business has recorded 48 consecutive profitable quarters, making $87 million last year. Since there are so many small-town travellers dreaming of a week in Fort Lauderdale, Allegiant added more planes. 
Cincinnati/Northern Kentucky International Airport capacity by airline (% of seats): 10-Aug-2015 to 16-Aug-2015

Implications
Allegiant Air is successful because it doesn't compete with the bigger airlines but instead goes to niche "underserved markets" or little towns where people want to get away from city life.
Allegiant only offers coach seats to promote its destinations. It brings small-town people to those vacations spots. Most airlines rely on frequent flyers to keep afloat. But Allegiant Airlines lures small-town people to go experience a different kind of vacation.
Allegiant Air has adapted its cost-oriented pricing strategy and is more like a travel agency than a typical airline. They get their commissions from the bookings of hotel rooms, travel tours and rental cars.
---
〉〉〉 Get Your FREE Pricing Audit  〉〉〉
---
Conclusion
Allegiant may be the cheapest tickets available, but cheap is not always a cheerful experience. Many of their customers experience delays, lousy service and extra fees for using their facilities.
Instead of buying the newest, most expensive planes, the airline buys used, inexpensive jets. Its planes are 23 years old, on average, compared with the industry average of 14 years.

This can lead to delays through technical engine downtime – and passenger may not even end up getting to their chosen destination.
Allegiant airline is capable of providing low-cost tickets because they have the cheapest aeroplanes and enticing destinations – it's not based on the planes or capacity utilisation.  Many Australian airlines show interest in the Allegiant Air pricing strategy and business model. Often because Allegiant Airlines has maintained its profitability for the past ten years by offering other add-on services on top of the ticket price like tour and hotel bookings. This is a

good value pricing strategy example.
Click here to access your free pdf guide on driving pricing strategy in your business.
---
For a comprehensive view on maximising growth in your company,
Download a complimentary whitepaper on How To Drive Pricing Strategy To Maximise EBIT Growth.
Are you a business in need of help to align your pricing strategy, people and operations to deliver an immediate impact on profit?
If so, please call (+61) 2 9000 1115.
You can also email us at team@taylorwells.com.au if you have any further questions.
Make your pricing world-class!