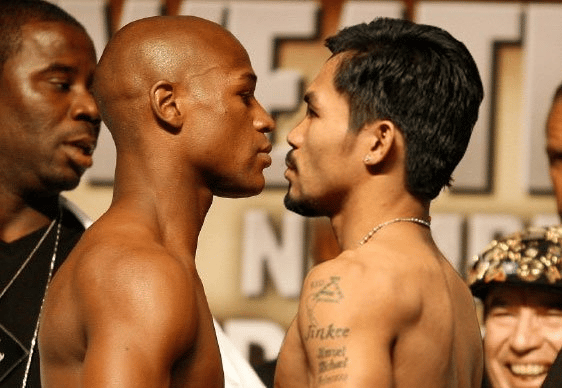 Luxury pricing strategy: How to sell a luxury product
Luxury pricing strategy: How to sell a luxury product
Written by Joanna Wells, Author of TeamBuilder360 & Director of Taylor Wells taylorwells.com.au,- Experts in Pricing & Building Effective Teams
I like many of you watched the biggest boxing match in many years- Floyd "Money" Mayweather versus the Philipinno Manny "Pacman" Pacquiao.
It was a very interesting contest on many levels, but this article will focus on pricing and commercial sales aspect of the match up. I will touch on a number of common pricing issues and how they could potentially apply to this fight. Much of what we see is classic "Value" based pricing.
Anchoring as a luxury pricing strategy
The match-up was constantly described as the biggest money match up in history (obviously neglecting inflation) and the figure of $400m has been talked about. As boxing is a very niche sport in this era – unlike the 1950s in the US, the importance of the fight is best described by the prize pot. For most fans and casual watchers the $400m shouts "this is important – you cannot miss this". It in many ways signals this is like a Hollywood summer blockbuster and should not be missed.
Mayweather (nicknamed Money) constantly talks about his wealth and spending habits – celebrity chefs, indoor basketball court in his mansion, 20k in dollars in his gumshield. It all helps to build the image of money, importance and luxury.
The fight was held in the fanciest hotels in Las Vegas and the high rollers rolled in.
Anchoring of expensive seats and pricing tiers. A boxing match is a classic example of market segmentation – even the cheap seats will be nose-bleedingly expensive (if you can get them of course). However, we are constantly told the few ringside tickets on sale will be for c.$60k a pop. This segmentation strategy puts airlines etc to shame. The rewards for sitting ringside of course are great and represent an intangible value – movie stars, pop performers and sports heroes will be clearly present ringside, raising their profile and showing how cool they are at the hottest ticket of the year. See pricing for profit.
Freemium
24/7 shows and open workouts represent a form of freemium – test the product and whet the appetite. Then buy the ticket for Pay Per View. The weigh in is an interesting case in this fight as it will actually have a paid entrance. Usually the weigh in is classic freemium – a face off, the fighters get their shirts of and flex, maybe some nasty words and more tension building. It is the closest thing to the fight itself. For this fight, the weigh in is the closest many will get to history and so tickets are on sale!
Defining scarcity as a luxury pricing strategy 
This was a once in a lifetime fight. The fighters are clearly over the hill and past their peak. In a young man's game (less so in recent years). It would have been a better fight 5 years ago, but is probably a bigger financial proposition today.
Championship fighters used to fight every few weeks (Sugar Ray Robinson famously fought Jake La Motta twice in two weeks. Mayweather only fights twice a year. Building the hype and maximising Pay Per View sales. His average audience would probably drop if he fought more often. Scarcity helps build the "event" feel.
Tickets were also very hard to get if not impossible for Joe Soap.
Another aspect of scarcity comes from the feint "closing down" sale tinge of the fight. This was the last mega fight for quite a while (unless maybe a rematch of course). The PPV and subscription model the sport has adopted has meant new stars are not developed at the pace the used to be.
The growth of UFC among the younger demographic has also eaten into the sport. Many TV execs fret that boxing can only appeal (in the US) to Hispanics, as well as the traditional white male over 45 audience.  In other words, this is the last mega fight for quite some time.
Manufacturing value through a luxury pricing strategy
If it was the hottest ticket in years, why is it being held in a stadium of less than 20,000? The US has no shortage of mega arenas. i.e. the infamous New Orleans Superdome (an indoor arena) holds c.75,000. Obviously there are other reasons why the fight is in Las Vegas – but a small arena also creates a false scarcity of tickets.
Of the 20,000 or so tickets available, an estimate c.2,000 were actually on sale. The quoted total gate fee is purely an extrapolation of the extremely scarce tickets actually sold. The remainder actually are given to favoured high rollers and celebrities under various agreements.
Bundling as part of a luxury pricing strategy
Casinos treat high rollers like kings – they are a key component of the casino model. When a high roller or whale favours a casino the casino commits to looking after them (a true luxury pricing strategy). Tickets to this fight is a key component of looking after a high roller. "You gamble with us, we take care of you all year round".
True value pricing
Mayweather earned c.$5k for his first pro fight. An extremely low amount for an Olympic representative and medallist and someone from a famous boxing family. The media did not favour him for a very long time (basically until he just kept winning big fights). Mayweather always stuck to his guns and stayed confident. He famously described a multi million dollar HBO contract as a slave contract. Floyd has operated in an era when being an African American fighter has been no easier than in the old days. All other big PPV fights in recent years have featured a Hispanic draw card. Mayweather has plugged along for so long there is no one else left and he has become the biggest draw card in the sport.
Even boxers know how do value based pricing 
If accountants ran this promotion, the fighters and promoters would lose a lot of money (cost plus is not applied anywhere!). The PPV price for TV viewers is the highest ever. >$100 in US and c.$60 in Australia. Of course it could be done at a much lower rate. Value, value, value.
Short term vs long term
This was a one time only event. The undercard was low quality and there was no intention to build a long term offering. This fight was equivalent to cashing your chips in. If promoters cared about the long term future of the sport they would would have tried to put it on terrestrial free to air tv to build a long term new generation of fans. They did not. This was a once off, short term financial money grab.
Luxury price management
This was tailored, sold and delivered as a luxury product (with a luxury pricing strategy in place). The glitz and glamour involved made the Oscars look dull. The best casinos, the biggest stars, the flashiest TV production made it a visual spectacle.
One could also argue the glamour was emphasised for this fight as a contrast to the grittier world of UFC.
Price discrimination by geography, and maximising willingness to pay.
There was a clear hierarchy
Ringside
Descending order of seats
Closed circuit screenings all along the strip – with parties etc
PPV – priced by geography
Delayed free screenings later in the week
Youtube (morebelow on that)
Counteracting internet drive to diminish costs.
The heavyweight title fight between Wlad Klitshko and Bryant Jennings in New York was up on YouTube about 30mins after the fight ended (in Russian however). This of course is a world of Pirates Bay and various torrent sharing sites.
How can the promoters ensure that fans will pay $100 to watch the fight on PPV rather than wait 1 hour then watch for free online? Answer:
Police youtube like crazy for a few days
Emphasise the event like nature of the fight- not to be missed even for a short while
Like a Hollywood blockbuster – you want to watch the best quality picture- not a small grainy computer bootleg.
Ensure every media outlet covers the result. Make it impossible to not know the result in the following days. Achieved by distributing media passes under strict criteria.
Vegas baby!
Finally. We were watching a fight but we were also watching Las Vegas itself. Las Vegas is facing trouble from the climate (water shortage) as well as overseas gambling centres like Macau. The US itself has seen multiple casinos spring up at every Native American reservation.
This fight was Las Vegas's opportunity to dress up and show itself to the world. We saw many shots of the Vegas skyline, the fountains at the Bellagio and info on how much high roller suites cost.
The Casinos were bank rolling the fight as stated above as it emphasised everything they love in a luxury pricing strategy; money, glamour, a rough edge, bad boys, winning and losing, characters, Hollywood, excitement. And the beauty is, it only lasted for c. an hour in total from ring walk to decision. There was plenty of time for the fans to hit the tables after that!
See our blog on prestige pricing.
For the opposite end of the spectrum – see our blog on low cost pricing strategy issues.
How to sell a luxury product is written by Joanna Wells, Author of TeamBuilder360 & Director of Taylor Wells taylorwells.com.au,- Experts in Pricing & Building Effective Teams
Taylor Wells is a specialist advisory firm that has developed a search, evaluation and recruitment process in the field of pricing, commercial and analytics.  Our business was started after identifying weaknesses in the traditional agency recruitment model.  Our purpose is to support management and HR to eliminate the risk of a bad hire. Our workshops and diagnostics ensure pricing or commercial teams are deeply engaged with the sales and marketing teams to achieve greater levels of margin and earnings growth.  We have developed our own digital platform to identify and evaluate talent and we partner with subject matter experts to help us operate efficiently