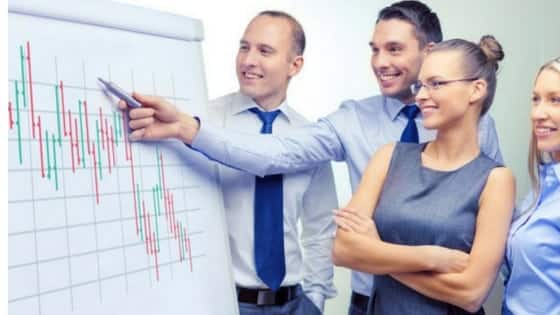 Pricing Team Job Description: What Is a Pricing Team? 🎀
Finding the right people for a role goes well beyond the job description and CV. Hence, when creating a pricing team job description, it is essential to measure the right things and be aware of what they are. Additionally, utilising alternative talent networks and evidence-based testing will help measure the right skills and characteristics which will help create a thriving, specialist pricing team.
The first step is for businesses to realise that they won't find everything they require in just one person. With that in mind, it's a far better, and more effective, option to utilise a team and have subject matter experts within it.
---
Table of Contents:
I. Pricing Team Job Description: What Is a Pricing Team? 
II. Why The Embattled Pricing Team Is Public Enemy No.1!
---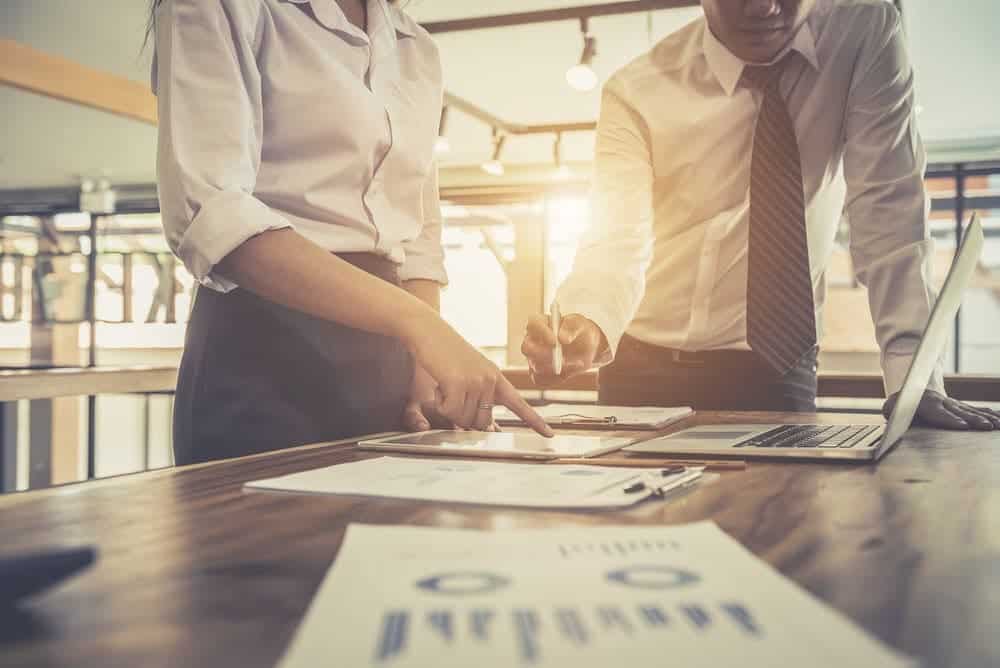 ---
Pricing Team Job Description: What Is a Pricing Team?
---
A strong pricing team job description builds the perfect team
A good pricing team acts as internal pricing consultants for your business. They are responsible for:
The application of pricing concepts

They determine pricing systems relevant to the business

How pricing helps achieve business goals

Set, support, and execute pricing tools and methods
B2B Vs. B2C
Pricing teams need to operate differently depending on whether your company is B2B (business-to-business) or B2C (business-to-consumer). Therefore, your pricing team job description should reflect your needs.
The pricing process and model of a B2B business need to consider the ff:
The longer decision-making process involved in the sale i.e, building value equity with the customers in advance of a major tender

Creating a vision for change and improving internal price management practices

A larger number of stakeholders with a range of views on pricing and how it should be done

Sales team performance and changes in the market

Upstream supply, commodities prices, trading and impact of CAPEX on cost structures

The requirement of a more extended relationship with loyal or preferred customers

Limited lead opportunities and tighter deadlines

More price transparency in the market

Increasing competition

A changing sales and deal process

A different kind of product awareness – i.e., customers are able to go online to compare products and their prices via aggregator sites

Channel conflict

Business model disruption i.e., platform business cutting out the middleman distributors and going direct to market.

Procurement teams cherry-picking prices at a line item level  
B2C pricing teams, on the other hand, need to consider:
A quick exchange or transaction (often one-off)

Multiple pricing decisions a day

Price indexing

Competitive intelligence

Alternative revenue models (i.e, subscription versus fixed fee

Dynamic pricing models

Tactical discounting

Bundling and unbundling value

A highly systems-driven approach to pricing and operations

Sophisticated price software, statistical analysis, visualisation and data tools

A modified approach to their consumers driven by customer data and sensitivity analyses

Implementing advanced customers segmentation principles (i.e., micro-segmentation)
Less than desirable job descriptions
If you write a terrible pricing team job description, you will likely secure a poorly skilled team. Therefore, bad descriptions fail to attract highly qualified candidates while bringing in unqualified applicants by the hoards. Thus, save your valuable time and avoid some of the traps of lousy job postings like these examples: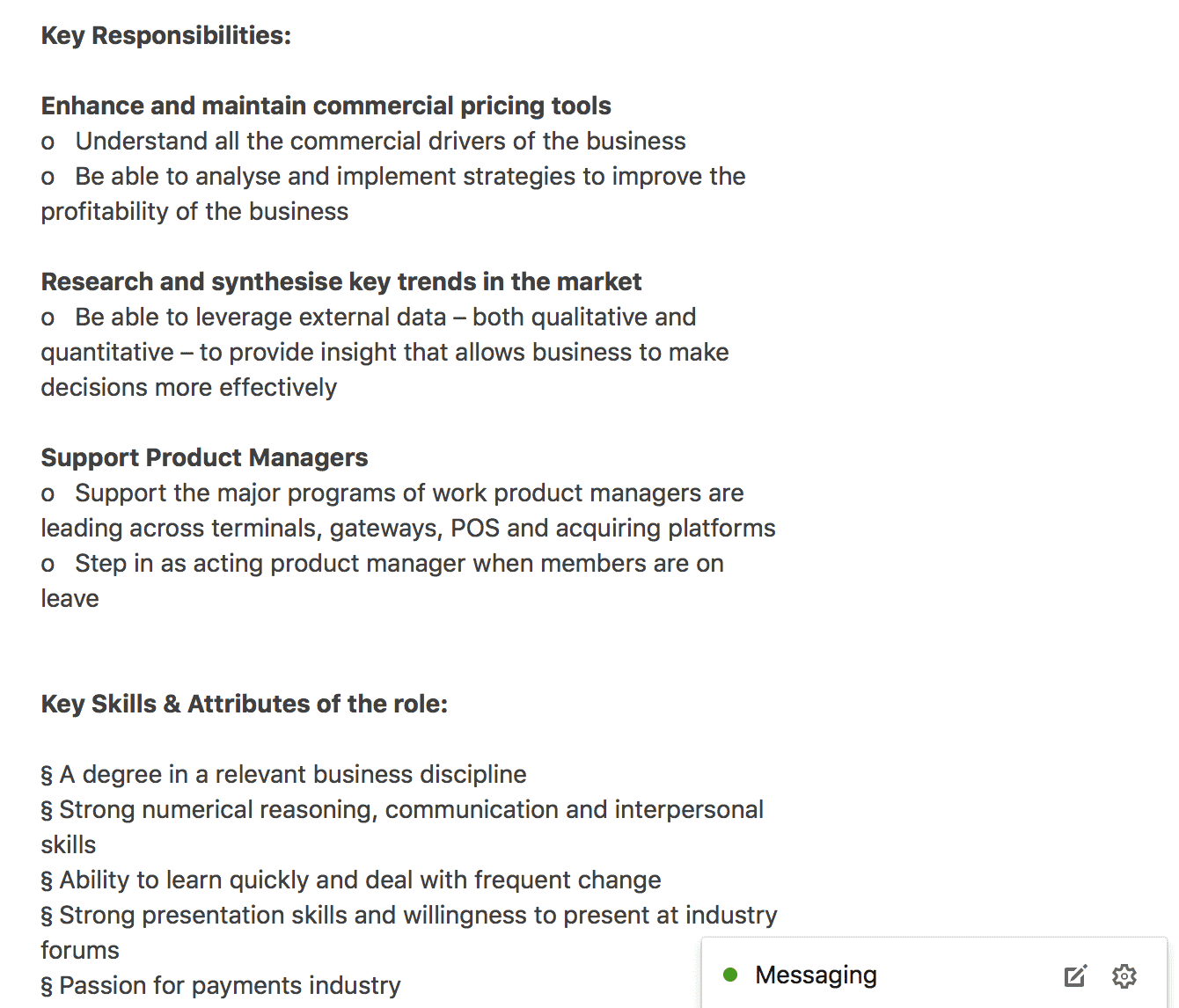 The above advertisement offers a very broad scope. It essentially requests that the new staff member should be ready to do everything, i.e., modelling, governance, risk management, pricing, stakeholder management.
This gives the impression that the company doesn't actually know what they are looking for and are trying to deal with a number of issues. So, who do you think this problem will be passed on to? Not a pleasant environment in which to start a new role.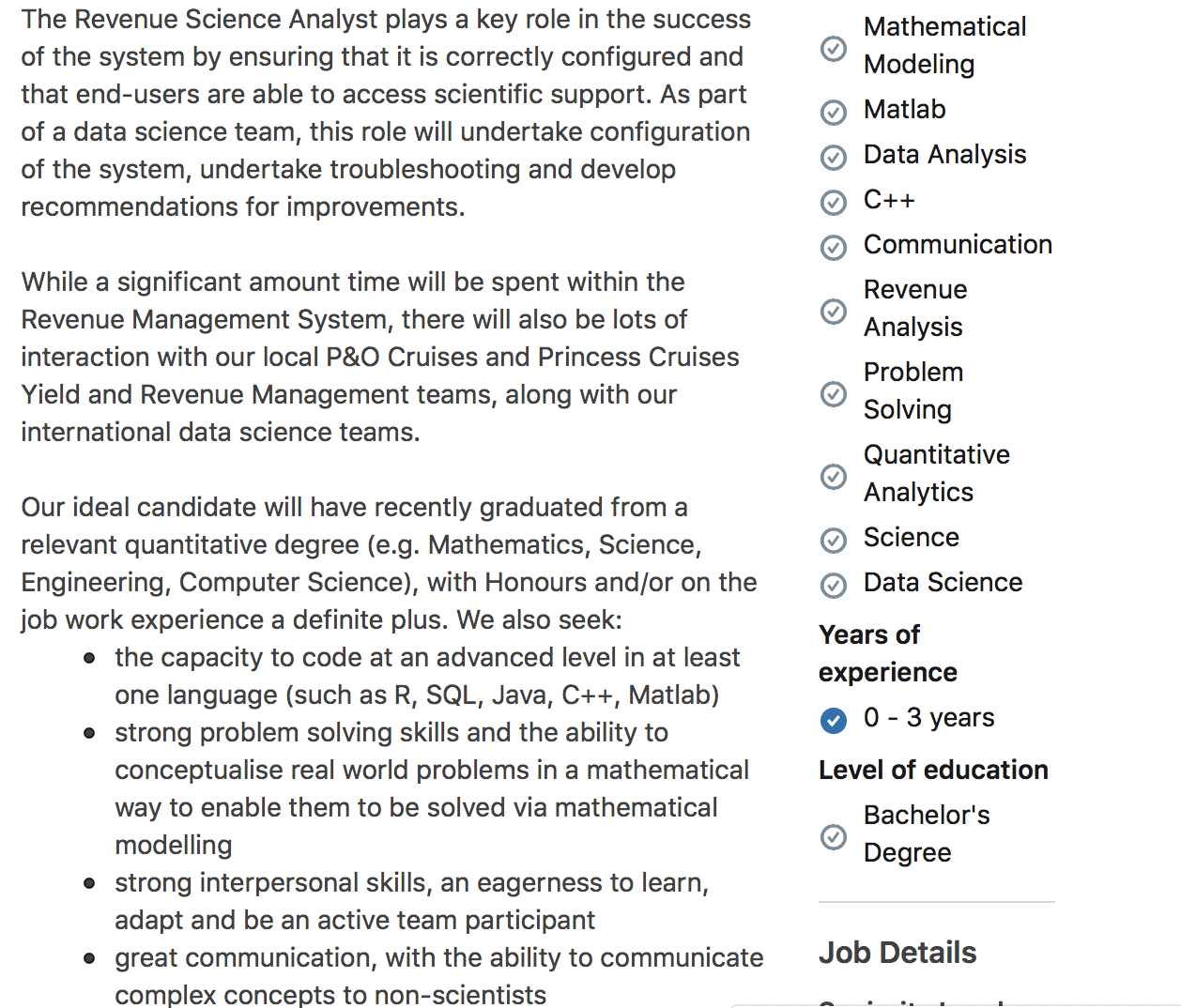 The job title of this one alone should set off alarm bells. Hence, the role requires the building of a custom revenue management system for very complicated pricing and revenue management models.  Thus, this places the responsibility of the configuration on an analyst when other businesses are hiring highly specialist pricing implementation consultants with technical knowledge and IT pricing skills for this single task.
So they are asking for a pricing analyst, coder, programmer, mathematician, and data scientist. Plus great interpersonal skills!
This ad is asking too much and will likely lead to cost blowouts and painful change management. Not to mention zero-margin gains.
Consider the quality of person you want in your team. Think about the precedent you set on what behaviour (humour included) is appropriate when they are at the workplace. Therefore, treat others the way you want to be treated, and write job descriptions for the type of people you want to be working with.
Five ways to make your pricing team job description better
As we mentioned earlier, selfish job descriptions will be less appealing to good talent, as will descriptions that are overly descriptive. Consider the following when crafting your next advertisement:
Don't be too particular
Avoid creating diversity issues before creating your team.  Additionally, heavily experience-focused ads will focus on the wrong mix of skills and attributes. They often emphasise technical skills over people skills or fail to define the characteristics required.
Consider the tone
An arrogant sounding job ad creates a personality for your business that may not be accurate. In effect, try to avoid writing in a tone that is dismissive or flustered. Many ads give the impression that the poster is already annoyed by the number of low-quality applicants they will receive and is instantly demanding or fed up.
Be concise
Prospective candidates are likely to be seeking jobs online and reading a whole stack of job advertisements. Keep your job posting as short and to the point as possible. The easier it is to understand, the higher the chance of someone reading the whole thing, thus absorbing all of the information that you want them to know.
Answer the questions your candidate may have
Ambiguity is simply annoying. Identify what information your potential new employee may need and include that in the advertisement. Offer the key facts and entice someone to the application phase by giving them all the information in the first step.
Grab their attention
There is no rule anywhere that says job ads should be walls of text, yet so many of them are. Why not stand out from the crowd a little and be creative? Keep in mind that you are giving people a sense of your business personality, and possibly what the culture and work environment will be like. If your ad is boring, what does that say about your business?
Key points
Better job descriptions, better teams.
Always remember the importance of identifying individual strengths while understanding the individual weaknesses of applicants and team members. Aim to build the kind of team that will drive a diverse way of thinking.  
Create a candidate experience that attracts high calibre people and educate them on the challenges of the role and what's expected from them both intellectually and emotionally. If you need help to ensure you achieve this via your pricing team job description, have a chat to us today about a new process or method to make sure that your pricing team is the best it can be.
---
〉〉〉 Contact Us for a FREE Consultation〉〉〉
---
---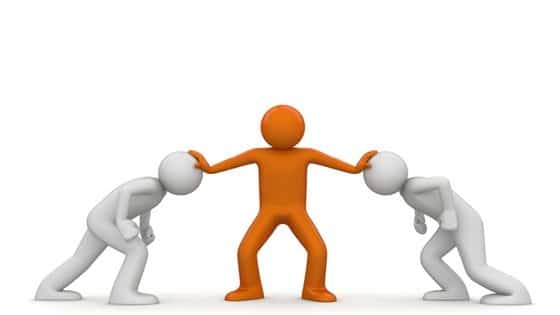 ---
Why The Embattled Pricing Team Is Public Enemy No.1!
---
Why The Embattled Pricing Team Is Public Enemy No.1? – The origins of the turf war between pricing and sales.
So why don't businesses just set up a top-notch pricing team to work with sales to implement more sophisticated market strategies that capture margin?
Pricing team: Assumptions, perceptions, fears and cognitive biases rooted in our evolutionary past may be partly to blame for poor teambuilding and dysfunctional team behaviours.
Perceptions of competition drive a lot of our thinking and are difficult for us to avoid. It can be the causal driver for turf wars and resistance to change and can even be the reason we look for excuses not to work collaboratively across an organisation. As a result of our past hang ups, teams and the members within have a tendency to think of their internal processes networks and connections as a zero-sum game – i.e., if one team gains something, another must lose out.
In terms of the pricing-sales team relationship (see blog on price reduction), a pricing team may gain control of pricing decisions as part of a wider business process improvement while the sales team loses their discretionary pricing power. Often this handover of perceived pricing power, empowers a pricing team and dis-empowers a sales team. These perceptions stem right back to our evolutionary past. They evolved to protect us from threat and enemy attack.
All the evidence suggests that a high-performance pricing team boosts revenue and maximises margins.
Such perceptions were accurate during our evolutionary past: When we were hunter-gatherers and the appearance of other people and animals on our patch meant fewer wilder beast for us.
In our distant past, sharing and collaborating was not something we really did. We might have shared with our close relatives – or at least our common genes would benefit from our close family succeeding in life. But anyone else, and in particular, anyone displaying behaviours counters to our perceived norms was likely to be considered a competitor.
A modern business is not necessarily a zero-sum game per se – when you optimise price, for instance, net profitability should grow.
Regardless, there are things we can learn from our evolutionary past. Indeed, our human hang-ups are the very things making it difficult for other teams to thrive. It can be difficult for all teams – i.e., the executive, sales, marketing and financial teams – to accept or even believe the financial gains in welcoming a new pricing team.
That's not all, groups also evolve different survival-enhancing practices. This means that new pricing teams (and even new pricing team members joining an established pricing team) can often be considered a threat to the status quo.
Firstly, new pricing teams exhibit different rules and behaviours that can interfere with the business' habitual coordination and management of price.
Secondly, new teams think differently from everyone else in the business about how to define, communicate and capture more revenue and margin.
Thirdly, they actively seek to influence and persuade different areas of the business to follow their pricing rules instead of legacy pricing rules and systems. Check out our blog on why pricing and business economics 101 may sometimes be wrong.
A clash of forces can occur when the sales team perceives the pricing team are making authoritarian pricing decisions, which preclude them.
There are clues in our evolutionary past which reveal the perennial difficulties associated with teambuilding and change management. Humans have evolved to be risk-averse, wary of close interactions with people who may think or behave differently from the accepted norm. Human hang-ups hack our brains daily and warp our perceptions of life and business.
It is common to witness visible tension between pricing and sales teams: Sales teams can feel threatened by new pricing teams demonstrating different values or new methods of pricing. Pricing teams, in response, often turn inward and become tired of fighting the battle – forming tight enclaves rather reaching out to other teams.
Silos and insular thinking can foster strong internal resistance to any proposed pricing changes and leadership. Toxic subcultures can emerge when teams clash and team performance soon suffers. Even the term 'price management' can engender a wider mistrust in stakeholders when perceptions are not managed properly.
Businesses and teams within commonly revert to what they did before and shut out new ideas. Even though what they did before was broken. To build a culture of collaboration in modern pricing organisations, we need to learn to get past our natural biases. This, combined with a real empirical understanding of the impact of teambuilding, might finally allow sales and pricing teams to capitalise on the huge financial potential that they can generate for the business and the whole value chain.
See our blog on whether your company has the right pricing executive leadership. You may also check our blog on pricing skills.
Click here to download the whitepaper.
Click here to download the whitepaper
---
〉〉〉 Contact Us for a FREE Consultation〉〉〉
---