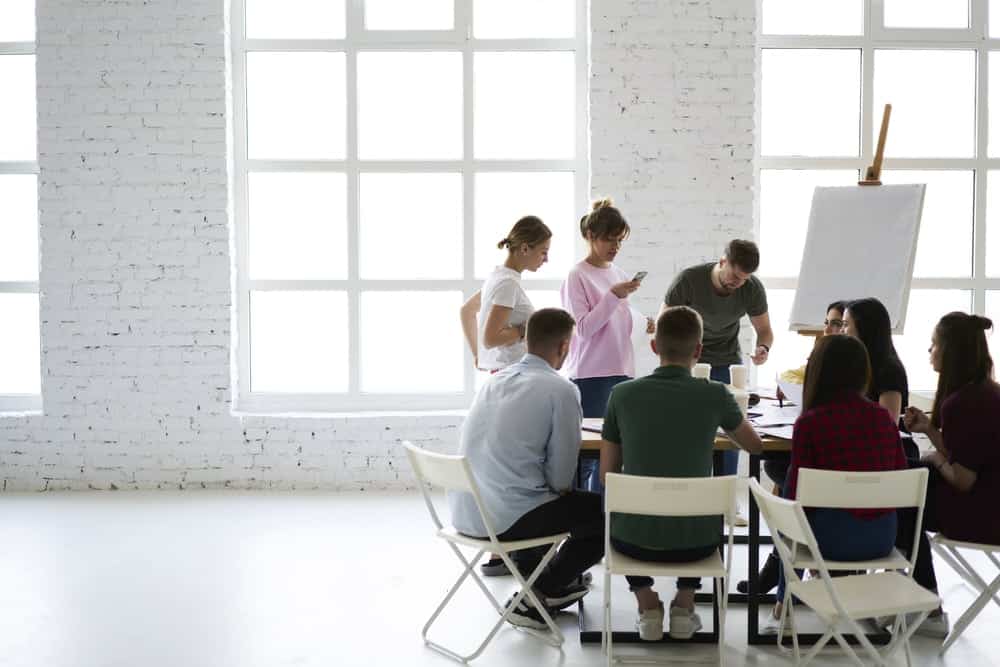 Price Marketing Strategy: 4 Obstacles To Quality Pricing Hires
Selecting candidates for price marketing strategy roles is cumbersome, inaccurate and ineffective.
Organisations are struggling to improve their price marketing strategy while candidates are forced to endure drawn out and tedious recruitment processes for limited return. Managers complain it's difficult to find top quality pricing talent for their teams and businesses.
Candidates complain that applying for price marketing strategy jobs is frustrating. Application volumes for price marketing strategy roles have increased 35% in recent years. However, 60% of these applicants don't meet your basic qualifications.
New hires are less likely to apply themselves to the role after experiencing a negative recruiting experience and are also more likely to leave – 38% high turnover. Screening people out for price marketing strategy roles is harder than ever. Online platforms like LinkedIn have provided us with instant access to thousands of potential applicants while businesses continue to rely on limited recruitment tools and processes to select candidates for pricing roles.
You don't. Everyone knows there's a problem with recruitment, but day after day year after year we continue to roll out the same broken recruitment process for our price marketing strategy roles.
Listed below are four significant obstacles preventing you from high-quality price marketing strategy hires. A quick-start guide to motivate you to re-imagine your candidate experience before you take any further action.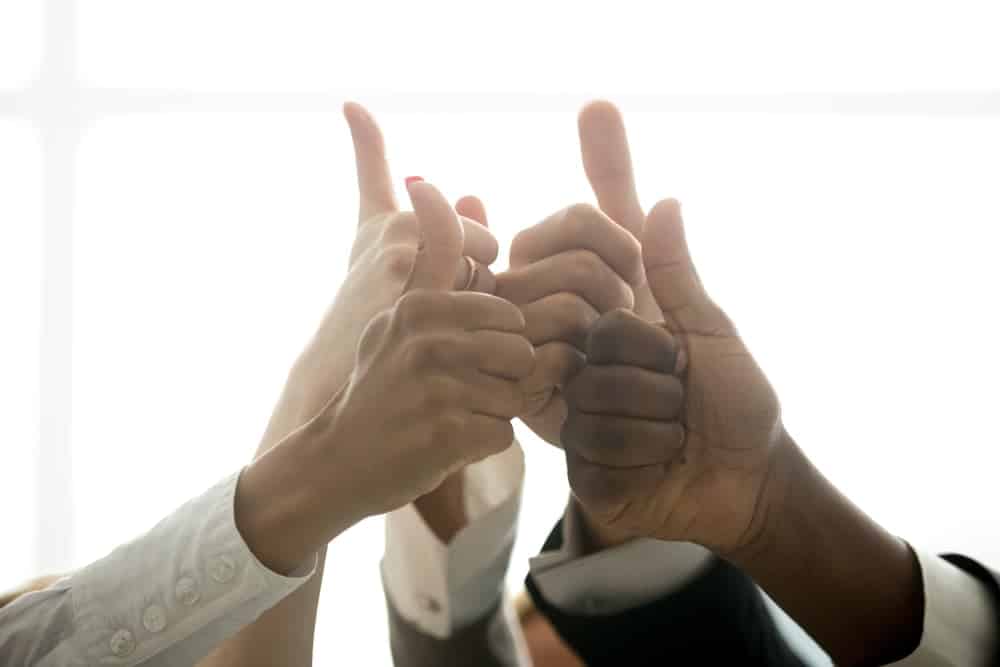 #1: Avoid standard recruiting processes
First of all, the standard recruiting process is a highly ineffective approach to candidate selection for price marketing strategy roles (i.e., Step 1: CV screening, Step 2: telephone screening, Step 3: face-to-face interview with managers, Step 4: references. Step 5: salary negotiation, Step 6: offer).
Standard recruiting leaves recruiters to sort through large, unqualified candidates pools. It relies on managers to give up their time to interview unsuitable candidates. It encourages candidates to pick and choose roles and businesses based on salary and perks. And, it places both parties in a vulnerable and unclear position about the future.
In short, businesses are offering price marketing strategy roles to candidates without really knowing whether or not they can do the job properly. What's more, candidates are accepting offers for price marketing strategy roles without really understanding the position, their objectives, or the challenges ahead.
Everyone involved is making high stake decisions without the right data and support to back them up.
#2: Avoid bad price marketing strategy hires
Furthermore, price marketing strategy teams need advanced pricing skills to generate more revenue and margin for their businesses. Our research reveals almost two out of three (64%) price marketing strategy managers hire employees that do not fit in well with their team for reasons such as skills deficits/mismatches, lousy attitude and sensitivity to change and ambiguity.
In addition, skills gaps lead to ineptitude, poor implementation, and a diluted price marketing strategy benchmark. Disengagement is contagious — poor performers lower the bar for other workers on their teams, and their bad habits spread throughout the organisation and often delay progress and interrupt workflow.
Having poor procedures in place or not putting enough time and effort on the front end to make sure you have the best available pool of applicants for your price marketing strategy roles will expose your teams to more bad hires and performance issues.
#3: Avoid highly automated recruiting for price marketing strategy roles
Highly automated processes are driving good price marketing strategy candidates away. In addition, research shows that people are much more likely to drop out of highly automated recruiting processes with limited human touch points than organisations offering relevant, actionable communication throughout the process.
60% of job applicants quit in the middle of filling out a job application due to their length and complexity. And, over 80% of candidates find automated online recruitment processes frustrating.
The large fallout rates for organisations using highly automated recruiting indicates most businesses are losing good hires or progressing bad hires due to their recruitment funnel without even realising it.
#4: Avoid expensive recruiting software for price marketing strategy roles
Finally, recruiting software does not fix a flawed recruiting process, it automates them. Many firms buy hiring software and candidate tracking systems, thinking it's the silver bullet solution to all their problems. However, it is not. We have seen many recruiting processes that have resulted in mismatches, lousy price marketing strategy hires, long drawn out methods, substantial replacement costs, and increased managerial time and effort. What's more, there's been no lift in quality of hires and ultimately zero margin gains.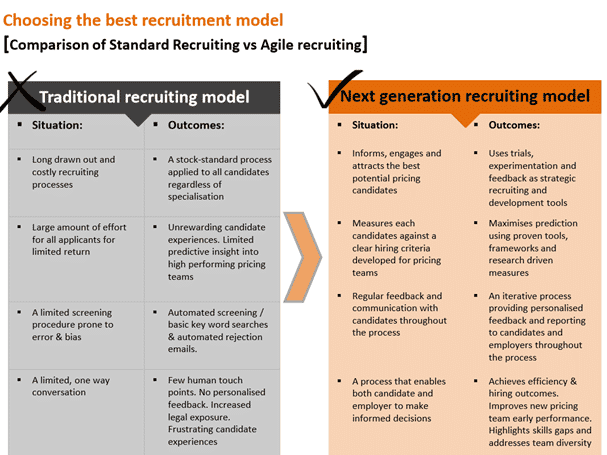 Conclusion
Consequently, online platforms and technology have changed how we source and recruit forever. As a result, we've now got instant access to thousands of potential applicants, CVs, profiles and social media avatars in a click of a button.
However, screening people out early in the recruiting process for price marketing strategy roles is now harder than ever: Too many talented people are being passed over for price marketing strategy. Too many unsuitable applications are progressing through our recruitment funnels. Too many people are securing senior price marketing strategy roles for which they are mismatched.
The best companies are avoiding these obstacles by providing recruiters with the predictive insight they need. The best leaders want to empower candidates to make better-informed decisions. Finally, the best applicants are choosing recruitment and talent advisors to help them move to the next phase in your hiring processes faster and more efficiently.
What's your recruitment process like? Are you getting the candidates you want and need for your teams?  Are you ready to reimagine your candidate selection approach?
If you would like to learn more about how to find and identify the right talent for your pricing function,  press link to download our free guide to highly effective Pricing Recruitment Strategies, Systems And Processes for hiring:
▪ Pricing & Commercial Analysts
▪ Pricing / Revenue Managers
▪ Commercial Managers
▪ Head of Pricing / Revenue Management
About Taylor Wells Pty Ltd.
Taylor Wells is an Australian talent advisory and recruitment firm. Our sole focus and dedication is supporting leaders build high-performance pricing teams and customer centric cultures.
"We've worked with some of the biggest brands in Australia. We partner with subject matter experts to help us integrate pricing teams within businesses efficiently.
We have undertaken over 2000 assessments from pricing professionals in Australia and globally. We've studied a range of pricing performance factors to define competencies, characteristics, and profiles that work best for each role.
We continually strive to optimise the pricing teambuilding and team integration process to improve organisational pricing capability. We firmly believe that combining data-driven insights with industry pricing knowledge and specialisation, can help businesses develop their pricing capability. This is achieved in much shorter time frames and with minimal cost and disruption.
Our proprietary teambuilding process drives early team performance, helping new teams forge 1-2% additional margin in their first 6-12 months."
– Joanna Wells, Director of Taylor Wells