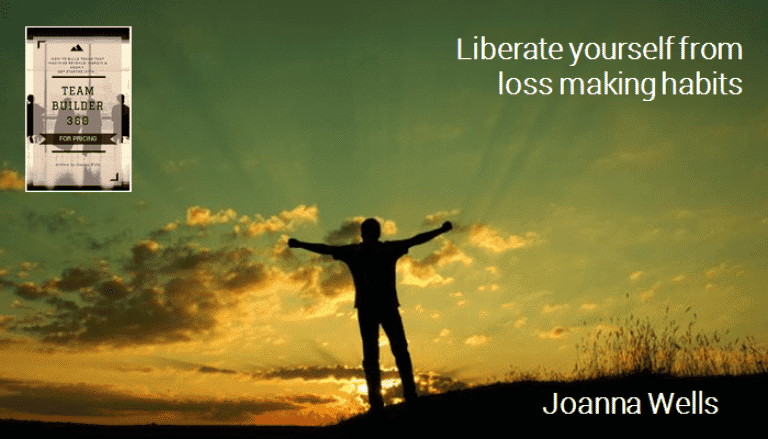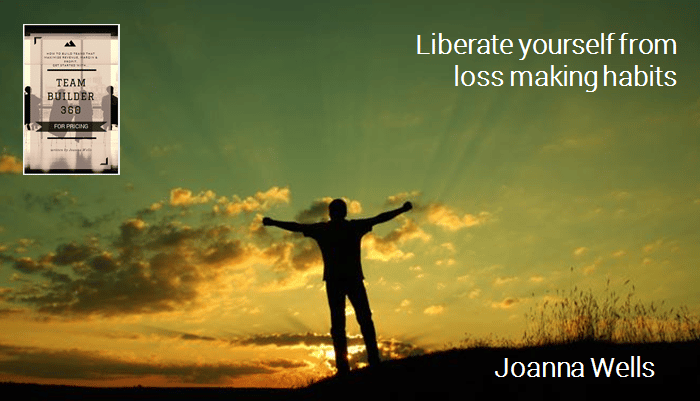 Price control: Liberate yourself from loss making habits
Price control: Liberate yourself from loss making habits
Written Joanna Wells, Author of TeamBuilder360 and Director of Taylor Wells
The Problem
No matter the industry, product line or how great or innovative the commercial offer, B2B businesses across Australia find themselves in unpredictable and unprecedented situations with no real reference points, defences or decision making processes to fall back on. Pricing pressure is no longer an exception, but the norm; and margin erosion is a common complaint, topic and point of concern (and contention) at many executive management meetings. From volatile FX and commodity prices; new market entrants to professional buying teams, complex buying cycles and lower demand levels, there are many sources of margin erosion creating a proliferation of complex B2B environments, problems, and cracks in business and commercial models meaning price control is more important.
Why is this happening?
The business models, profit levers and price control mechanisms that drove revenue and profitability 20 years ago are significantly different from those that operate today. Many businesses were built on cost plus pricing management (i.e., made up cost to produce product figures plus mark-up percentage); however, this is ceasing to be the case, as a growing number of B2B businesses across Australia opt for more sophisticated ways to manage price control and value.
Without many businesses even realising it, cost plus price control and costly internal pricing negotiations are preventing your sales teams from winning deals. Pricing arrangements built on cost plus mark-up are inflexible and uncompetitive and leave your sales teams open to procurement teams that are ready to cherry pick prices by line item. All the while, the sales teams are left in the defence position, explaining numerous pricing discrepancies that customers have picked up in your list price and discount structures (as opposed to sharing meaningful stories on customer value and risks that could help or damage their business).
Don't think that customers do not notice inconsistencies in your pricing either because they do. As the procurement function grows in numbers and sophistication so does their ability to detect poor price management. What's more customers are choosing to work or not with suppliers based on the strength of their price list. Large price bandwidths, erratic discounting, and poorly structured, non-incentivised volume rebates are all overt warning signals to discerning buying teams that a supplier is not in control of profitability or cash flows and maybe a risk to work with.
Price control structures that are derived from cost plus mark-up calculations only serve to trade off hard earned margins. They offer practically no room for your sales team to move and next to no opportunity to abate price driven customers with more flexible value and price trade-offs. Cost plus price control is like a distant relative or aunt, it doesn't quite fit in with the demands of modern business and trade, but it is known, trusted and a predictable formula that always makes an appearance at the big events.
Cost plus pricing does not cut it with customers, the board or shareholders now or in the future. There are a growing number of B2B businesses that are realising this too as they see first-hand the negative results that cost plus mark-up can have on profitability. A double pronged attack from fluctuating and rising costs on the one hand and excessive discounting and volume based 'passive' rebates on the other hand gradually eventuates in the jaws of death situation and certain earnings decline. Unfortunately, most management teams would not even be aware of these things, let alone be able to describe how or why cost plus damages profitability and credibility with customers.
How can loss making habits affect business culture (inefficient price control)?
A cost plus mindset is the antithesis of customer centricity or customer value. Cost plus is a reductionist thought process which eventually disconnects the business from people, namely customers and staff. A cost plus mindset is driven by what only can be called rough estimates of costs or guess work. In a time when energy costs are fluctuating and commodity prices vary greatly week on week, why aren't more management team asking: Is cost plus really a reliable way to set prices? Although cost plus postulates a logical argument in an excel spreadsheet, it really does not account for market variability and/or speak to the commercial mechanisms and human factors driving a deal.
A cost plus mindset can also become deeply ingrained in a company psyche without a business even fully realising the full extent to which it is influencing sales behaviour and commercial decision making. So much so, that the mere suggestion of alternative pricing methods or practices such as value based pricing can provoke awkward silences and/or dismissive comments in management meetings. If value pricing feels strange, awkward or silly these are signs that the business actually needs to rethink how they price.
A cost plus mindset is also closely connected to a commodity mindset (have one and the other is sure to be lurking around somewhere). When a business has a cost plus and commodity mindset, it is very typical to find that group discussions on possibly changing the status quo are overridden by statements like "value pricing does not work in a sales organisation," "We sell commodities, where's the value here." "Our customers do not care about the value we offer, they just want a better price."
Breaking a cost plus mindset is not easy. As an MD recently said to me: "Transitioning from cost plus can feel like you are letting go of the steering wheel." Taking the brave move to become accountable for past decisions and behaviours can be confronting. It is difficult to take the first step to test and validate your business model with customers in case they tell you what you don't want to hear (but what you need to hear). It may even feel uncomfortable diagnosing the maturity of well-worn internal commercial management systems and price control structures that have served you well in the past (yet are likely to be the very obstacles creating many of your problems).
What you can do about it?
Diagnosing your real business problem is the foundation upon which to drive innovation. However, there are relatively few B2B businesses that actually objectively diagnose their business problems. Often businesses choose to do it alone or internally. Although this is better than nothing, such pursuits to discovering real business problems are largely unproductive because findings, recommendations and observations tend to be written with a latent desire to please or appease management concerns with good new stories and unrealistic perceptions of the market.
It is challenging to take honest feedback, let alone if you are a CEO with a successful track record of running multimillion or billion dollar organisations. However, in unprecedented times, successful CEO's (i.e., Carlos Ghosn being the prime example) spend most of their time listening and examining constructive and impartial feedback; good and bad and from a variety of different sources (internal and external).
Constructive and regular feedback adapts business pricing strategy, implementation and workplace culture. Objective feedback challenges biases and assumptions about price management and internal pricing operations and management. It is the basis upon which to lead and drive business innovation, internal change and shareholder value into the future.
Unfortunately, not all CEOs seek or receive constructive feedback that well. There are many more business leaders out there that have for whatever reason become cut off from people; consciously and subconsciously opting out, becoming disconnected from the realities of business and complex human challenges.
The position of CEO is a lonely and unrelenting. People often fear to tell you the real situation (good and especially bad). It is difficult to get close to people because they are a vital resource of investment, utility and revenue generation. And, it is becoming increasingly difficult to find people with the right expertise, mindset and team working skills to break destructive behaviours and beliefs systems about what is and what is not possible. Yet, curiosity, courage, accountability and an unrelenting focus and drive are key traits of good CEOs and vital components to running and operating sustainable and profitable B2B businesses.
Today's and tomorrows' successful B2B businesses (see blog on pricing advisory in B2B) are and will continue to be driven by a greater understanding of people. A deeper understanding of customers: meaning an actual understanding of the customers' commercial problems. An alignment between the business' value and pricing models: i.e., the key to unlocking more revenue, margin and profit. And, a deeply embedded value mindset across the entire organisation: i.e., a key determinant to driving business strategy (and breaking old habits and mindsets).
It is time that executive teams become aware of destructive price control behaviours and loss making habits. It is time we think about educating and reminding each other on why and how loss making business habits are destroying commercial deals and profitability.
Liberate yourself from loss making habits is written Joanna Wells, Author of TeamBuilder360 and Director of Taylor Wells
Taylor Wells is a specialist advisory firm that has developed a search, evaluation and recruitment process in the field of pricing, commercial and analytics.  Our business was started after identifying weaknesses in the traditional agency recruitment model.  Our purpose is to support management and HR to eliminate the risk of a bad hire. Our workshops and diagnostics ensure pricing or commercial teams are deeply engaged with the sales and marketing teams to achieve greater levels of margin and earnings growth.  We have developed our own digital platform to identify and evaluate talent and we partner with subject matter experts to help us operate efficiently.
Joanna Wells, Author of TeamBuilder360 & Director of Taylor Wells
TeamBuilder360
TeamBuilder360 explains how to build teams that work together to drive revenue, margin and profit growth using a TeamBuilder360 canvas and a wealth of real life examples. It also gives you advice and guidance on how to build a more productive and successful career in pricing without compromising on important career choices and goals.