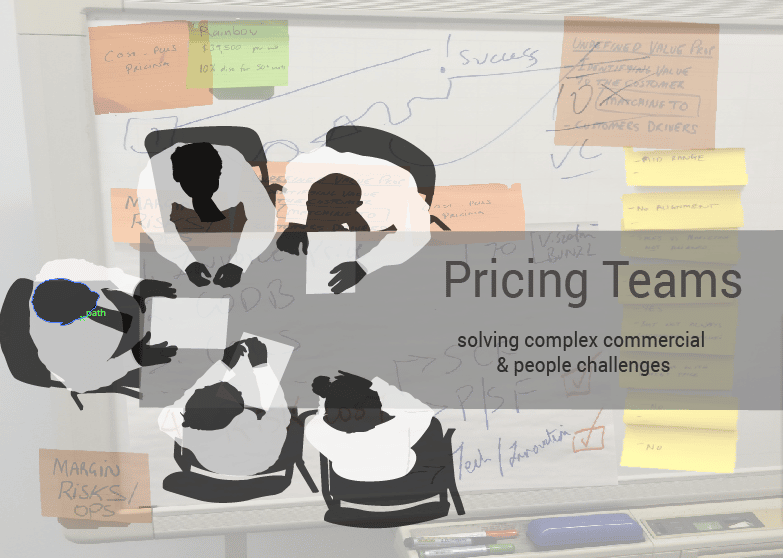 Different pricing strategies: win pricing jobs in B2B industrial companies
Different pricing strategies: How to win great pricing jobs in B2B industrial companies
Written by Joanna Wells, Author or TeamBuilder360 and Director of Taylor Wells
To move your career to the next level, you need to be a great business person and not just a pricing manager. This might sound strange; be at odds with your assumptions about your role in pricing; or feel a little outside your comfort zone; however, if you want to accelerate your career, you need to make sure your skills, knowledge and presence is relevant to the business and your customers. Businesses need pricing professionals that can help them solve complex commercial challenges; not just people who are technically brilliant at pricing services and products. Focus on solving complex business challenges; and help and care for other people, and see how your own interests and career ambitions fall into place.
In this article, we will discuss the behavioural characteristics of great pricing leaders. Our main contention is that great pricing leaders have learned how to channel their unique capability on the things that matter most: i.e., understanding changing markets, your customer pains and wants, staying ahead of the competition, different pricing strategies and ultimately helping the business drive sustainable revenue, margin, profitability and growth.
Have a talent and passion for numbers and manipulating data
From over 300 interviews with pricing and commercial analysts, managers and directors across B2B industrial companies in Australia; 100 company pricing diagnostics; 600 talent evaluations of pricing and commercial professionals at every level and every industry and different pricing strategies, a clear picture of a great pricing leader starts to emerge.
It might sound obvious, but the first sign of 'pricing competency' or a key characteristic of a 'great pricing leader' is a strong core pricing competency. When we say 'pricing competency', we are measuring a range of technical and soft skills: i.e., financial and commercial problem solving, data analysis, arithmetic, communication, teamwork, business maths, data analysis and interpretation, reading charts, tables and graphs; presenting ideas and results.
We find that great pricing leaders or potential leaders do not start their career in pricing necessarily knowing everything there is to know about pricing like different pricing strategies, as domain expertise and knowledge is something you build over time. They do, however, all start their career with a strong core analytical and problem solving competency and communication skills to thrive in most financial and commercial environments.
Trust your entrepreneurial instinct  
A second important characteristic is entrepreneurship / intrapreneurship. (Or channelling a unique capability / skill set to drive profitability by helping and understanding the needs of others.)
Ask yourself for a moment, what led you to where you are today? What behaviours, attitude and personal psychology or mindset do you have which serve you well?  Now, think about how you should cultivate these strengths to help other people. Great pricing leaders make it their priority to help internal and external customers understand how better pricing management can build more opportunities, different pricing strategies, growth and profitability. They also spend a great deal of time empowering these same people to take control of the pricing situation and/or make better buying decisions.
Pricing leaders have a unique advantage to get to senior leadership positions. They have a propensity to detect opportunity and risk like an entrepreneur or astute business leader and then make lots of money from it. Great pricing leaders like Dick Braun (Parker Hannifan), Bob Vezeau (WestRock), Greg Preuer (Cooper Lighting) have all made it to leadership positions in B2B industrial companies because they remain focused on the bigger picture, different pricing strategies and quickly detect opportunity and risk. If pricing leaders are being consistently told what to take care of (opportunity) or what to look out for (risks) then something is wrong.
So what specifically makes a pricing leader an astute business person, rather than just a pricing manager that hands out prices and can focus on different pricing strategies? When we reviewed our research on global pricing talent, we saw great pricing leaders had a compelling mix of at least three of the following traits and characteristics:
They care about and focus on customers
Pricing leaders like customers and deals. They enjoy getting involved in making deals and will challenge customer's viewpoints on price and value. They thrive from constructive debate and are always the educator, guiding customers tactfully to better buying decisions. They can control important discussions on value by digging into the financial detail and mechanisms of a deal. They are skilful at shifting the customer's mind away from price to value by showing them how they can make their life easier and business more profitable.
They are highly commercial and results focused
It is likely that they have moved into pricing and commercial because they prefer selling deals rather than buying deals or reporting on deals. They are highly competitive and want to beat the competition by providing options/ recommendations that make lots of money. They are driven to win a large amount of business from the market place. They are trusted and relied upon by sales to advise whether the team should stick to the best price or particular deals or go below or above it or offer best and final right now.
They have a natural propensity to range  
Pricing leaders have to do a lot of things and deal with and count so many variables. They are the people that do the analysis and recommend a good price, but also the person who works with the management team to make practical and low risk recommendations to drive profitability.  They build up, collect, develop and refine their thinking on a number of variables (customer value, business metrics, market conditions, competitors and internal stakeholder management) based on reliable sources of information (data, analytics, business intelligence, algorithms, templates and dashboards) to form the best strategy possible to close or win business.
They are a trusted advisor to a number of groups
Great pricing leaders are energised by helping others, winning deals, ranging though a number of complex problems and scenarios, and being recognised for their efforts and talents. Their number one contribution to a sales team is bringing sound understanding and simple explanation of numbers. Their contributions to management teams are: driving profitability, identifying opportunities and risk and aligning commercial teams to key business metrics and growth plans. Their number one contribution to customers is challenging the way they perceive price and value. They tend to always start with the numbers, but validate findings in a very collaborative way. They will avoid risky decisions by working methodically through complex problems and/or deals using Lean and Agile methodology. They will tend to have a plenty of ideas and on nearly all topics; and likely to be considering several factors to make sure they are giving the people the best advice possible.
What is preventing you from getting the right pricing role in different pricing strategies
At this point, you may be thinking why aren't more businesses hiring pricing managers if they are able to do all this….
There is absolutely no doubt that more B2B businesses need more great pricing leaders. Many great leaders of the future go undetected because of a lack of knowledge and skills to detect pricing talent and leadership potential. Many new recruits into B2B pricing teams have done little to know pricing – leadership level excluded. They are mostly internal hires; moved from sales, procurement, finance, customer services teams. Some may have been moved into the pricing team because of their talent and competency in these core pricing competencies. Many more, however, are moved into pricing teams because they have to (the boss told them to) or want to (fancy a change) and not because they are the right person for the job.
What can be done to support and drive your career
The role of pricing is still largely undefined in many B2B companies. Many B2B businesses are not setting up pricing and their pricing teams in the best way possible. There is a need for more clarity and training around what is takes to be and/or identity great pricing analysts, managers and directors. Job descriptions and talent evaluations are largely generic and unrealistic; and finding talent in many businesses is more the 'luck of the draw' than a systematic, robust and fair process.
There are people in pricing jobs that shouldn't be there and vice versa. Some great people with the right mix of core competencies and potential are overlooked for pricing roles because they were tested using the wrong competency framework. Assumptions or a lack of knowledge about pricing can lead to hit and miss recruitment (i.e., both the right and wrong people are brought into the business). This is a mistake and exposes the team and business to risk. Wrong hiring decisions affect work satisfaction and the lives of the individuals and their families.
Early detection and specialist talent evaluation is required to help candidates, teams and businesses make more informed decisions. There is a growing need for better recruitment and hiring for all pricing roles (analyst to director) to: avoid bad hires, identify pricing talent early and prevent under-performing teams.
Companies like Parker Hannifan, Rockwell, Shell, GE, Cooper Lighting, Eastman Chemicals have all invested in pricing and people right from the recruitment through to leadership positions.
If you are thinking about changing career, interviewing for a pricing role right now, or wondering whether a career in pricing is something you should persevere with or start, then think about great pricing leaders and what they have done to succeed:
Do you keep an eye on the bigger picture and make it a constant reminder to not get lost or pre-occupied with tactical analysis and pricing administration? Do you wait for the ideal job or opportunity to be brought to you? Do you have a network of people that can guide and support you? Do people respond positively to you because you are credible, reliable and focused on solving their problems?