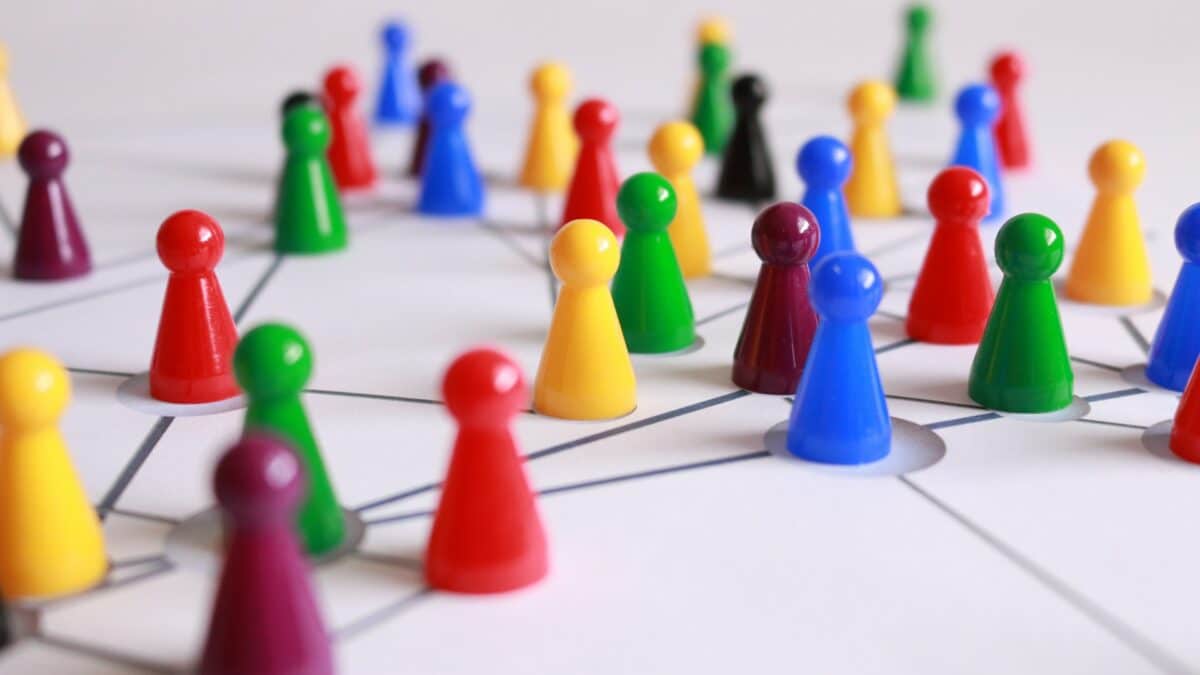 Creating A Sales and Marketing Strategy Plan Using Your Networking Skills 🖌️
If you have been involved in business for some time, you would have heard how important it is to network. Contacts equate to leads. Then leads equate to sales. Many people, however, don't know how to fully utilise networking to its fullest potential. The failure to do so can be a huge missed opportunity for your business to maximise profits. Today, we'll be discussing how to go about creating a sales and marketing strategy plan through networking. 
Creating A Sales and Marketing Strategy Plan Through Better Networking
A typical sales process goes as such; finding prospects, gaining buy-in and interest, creating business solutions, and making the sale. The entire process rides on the success of the first step – finding prospects. 
Networking is one of the most effective ways to do this, especially for B2B companies. Proper networking can connect you with key decision-makers in the market. An effective salesperson, on the other hand, can turn these prospects into sales. They can be enabled by a fine-tuned sales and marketing strategy. 
Your business needs to ensure that each aspect is executed properly. If one lacks support, the rest could lose their efficacy. Below are some key points your business should invest in.
Network Management
Network management is essential to supporting the efforts of your sales teams and providing them with resources. Proper management of your networks enables information to flow while coordination between contacts is maintained. Effective management will make jobs in every department easier in the long run. 
Social Networking
Many people fail to see the value of social networking, but this is critical for finding relevant contacts that can best serve your business. This is especially true when looking for assistance. Someone you collaborated with in the past could be a useful contact in the future. 
Unlike common beliefs, social networks expand beyond direct contacts. One contact may be able to refer you to a whole group of other contacts, which is indirect but still an effective way to go about generating leads.

Sales Strategy Session
As a business owner, you are accountable for the operations and everything that goes around in your sales processes. This is where a sales strategy session comes in handy especially as you aim for revenue increase and consistent team performance.
The first thing you need to do is assess why your sales team isn't hitting targets or performing at its best. For sales managers, here are the key areas that need to improve:
Sales strategy and inbound sales process
What does your sales plan look like? Surprisingly, it's 5 to 20x more expensive to find new clients than to maintain existing customers. So, your goal is to convert new shoppers into returning or loyal customers.
Apart from account management, you must monitor customer retention and customer churn. Ask, "What could be the reasons that they may switch to a competitor? Is it product quality, price, value, or customer service experience?" These are key drivers that may influence a customer's decision.
What are your objectives?
In this case, you need analysis and insight in setting your goals for your sales team to follow. This way, you can measure targets and use metrics that will help teams perform consistently.
Sales team structure
Are the right people in the team the right fit? As a sales manager, you must reinforce a culture of accountability. Make sure that management teams are aware of their strengths and weaknesses. It's because from time to time, sales staff need coaching, a rewards system, and incentives to help them consistently reach goals.
Describe your target market
Research about your prospects like age range, gender, lifestyle, and location. You can do this through telemarketing, email campaigns, and other digital and non-traditional platforms. You need to ask, "What are the benefits and features of my products and services?" This will help you present your sales strategy session clearly and market your services to your target market.
How will you compete?
What are your competitor's strengths and weaknesses? How will you set yourself apart from the rest of the market? You can analyse and compare advertisement capabilities, pricing, marketing tactics, production rate, customer service experience, and sales volume. Using these factors along with your resources will help you stay competitive.
How To Utilise Networks – Creating A Sales and Marketing Strategy Plan 
The first thing you'll want to do is match network groups to the right scenarios. You don't want to be randomly cold-calling everyone you've jotted down in your address book. You need to know which contact can serve a specific purpose.
What matters is understanding network density. Within your group of contacts, you'll want a variety of network densities, which can provide you with the best option in any given situation. 
Dense Networks
In some scenarios, network density can actually be of great advantage to you. For example, someone in your sales team needs help finding someone to coordinate certain projects. Dense networks can help you crowdsource more easily without having to reach out to multiple people in various fields. 
Sparse Networks
It may seem like dense networks are more desirable, but for some tasks which require more unique information, sparse networks are more ideal. For example, you're looking for individuals with unique or specialised information. In denser networks, people are generally more likely to have the same information. Sparser networks will offer a more distinct variety.
Build Relationships
Once you have identified strong prospects, you need to build on that professional relationship. If you're going after a sale, start by educating your prospects about your product or service. Establish initial interest and then strengthen those ties. 
Also, try to generate more leads through your initial contact. Ask them if they know anyone who's interested that you may be able to speak to. Once you have built and strengthened ties with your new contacts, do the same and continue to branch out. By doing so, you will be building a wide and efficient network of clients. 
Create Solutions
As with any effective sale pitch, you need to establish your product or service's value to the prospective customer. While you are building a relationship with them, find out what problems they may be having in their industry or gaps in their process. 
Your job is to position your product or service as the solution they have been looking for. Establish how your offering can solve their problem and how they can earn back their ROI (return on investment). 
Another innovative practice is to bring in other contacts in your network that can supplement your product or service. For example, you may need an engineer to assist in installation or maintenance. By connecting your contacts, you will not only be assisting your client and strengthening your relationships but also doing others a favour. 
Seal The Deal
Connecting your contacts with each other is not only beneficial during the solution phase, but also as you close a sale. This is because your clients may need extra assistance from other industry professionals. 
Mobilising old contacts can help strengthen your reputation and standing in the industry, as well as bring other networks together.
Tips For Improving Your Networking Skills – Creating A Sales and Marketing Strategy Plan
Build structures for lead generation – lead generation is not always easy or natural. Sometimes your sales teams will require some assistance doing so. It may be beneficial to build separate teams specifically for this task so that your sales teams can focus on maintaining contacts
Have support teams readily available for your salespeople to tap. This can be incredibly helpful, especially if your products or services are complex and customised. 
Sometimes, sales teams lack the motivation to generate new leads or may be hesitant to share their own leads with the rest of the department. One helpful tip is to create an incentive plan that encourages your sales team to share leads and information. This may also stimulate inter-departmental communication and networking. 
Lastly, you may need to invest extra time to train and develop your sales team's lead generation skills. Remember, this doesn't always come naturally to employees, but a little guidance can equip them with the necessary tools to be effective. 
Bottomline
In conclusion, your business should never underestimate the importance of networking. Better networking skills can help a lot in optimising and creating a sales and marketing strategy plan. This goes for both collaborative efforts and closing sales. All you need to do is learn how to utilise your networks effectively. This can make a whole world of difference when it comes to profit and establishing yourself as a reputable leader in your industry.
For a comprehensive view on maximising growth in your company,
Download a complimentary whitepaper on How To Drive Pricing Strategy To Maximise EBIT Growth
---
〉〉〉 Contact Us for a FREE Consultation〉〉〉
---
Are you a business in need of help to align your pricing strategy, people and operations to deliver an immediate impact on profit?
If so, please call (+61) 2 9000 1115.
You can also email us at team@taylorwells.com.au if you have any further questions.
Make your pricing world class!